More brands are starting to voice their social and political opinions through the medium of (brand) design.
German designer Philipp Plein reportedly left audiences open mouthed when he launched his A/W 2013 menswear collection at Milan Fashion Week a couple of weeks ago. The designer chose to feature models carrying automatic weapons, wearing balaclavas, and sporting capitalised slogans in red-ink such as 'ONLY KILL FOR LOVE' on their topless torsos.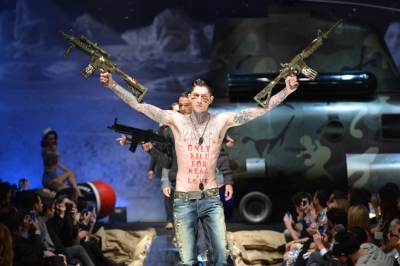 Photo: Philipp Plein, presentation of the AW 2013 collection
In light of recent events in Connecticut and the rumbling debate over gun laws in America, debate is raging over fashion's latest shock tactic. And the question is, was it just to gain column inches and repute or is it truly making a moral stand?
In contrast, last week saw a news story from Newark in New Jersey about the launch of a new program to make jewelry out of melted down guns. Called the Caliber Collection, the proceeds from the jewelry fund the State's gun buy-back program to get guns off the streets—and they have raised $20,000 so far.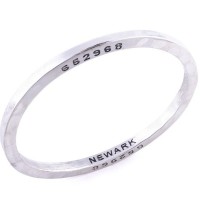 Caliber Collection rings made of guns
And this design initiative echoes the recent work of designer Aitor Throup. In 2012, Throup launched four new clothing pieces, designed to raise awareness of the dangers of ethnic stereotyping and inspired by the outfit worm by Brazilian Jean Charles de Menezes, wrongly identified as a terrorist, and shot dead by police in London in 2005. Beautifully designed, focal piece is a highly technical black rucksack in the shape of an upside down skull, a symbol of misconstructed threat, whereas the remaining three pieces reference the exact outfit worn by de Menezes.
We have always given fashion something of a licence, but as this approach starts to gather momentum, it begs the question just how much should a brand voice opinions or comment on socio-political events? Kitchen Aid was forced to apologize for their Obama grandmother tweet controversy and American Apparel was lambasted for inviting people to buy the brand «in case they were bored» during Hurricane Sandy.
Social media has given us all a voice—a way to voice and share opinion. And whilst brands need to connect with their consumers via these channels  — they are seemingly not afforded the same freedom of speech as Joe Public. Conversely, today's consumer—with a moral and ethical agenda—is looking to brands to make a difference; to be cause worthy or charity driven rather than just commercial. It seems inevitable that we will now also start to see more brands designing moral, social and political opinion into the fabric of their brand design and packaging. But it's how they do it that will be of utmost importance.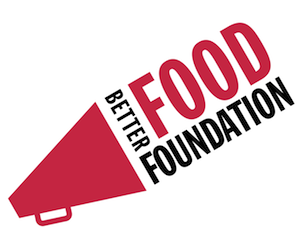 Photo: the logo of Jamie Oliver's Better Food Foundation
One of our most recognised proponents for change—and actually for the power of good design—is Jamie Oliver. His Better Food Foundation is not just a charity  but a branded global  movement determined to change the way people eat. Jamie and the team recently recognised that they needed to rebrand to make their voice as strong and resonant with their audience as possible. The new vibrant colours convey the energy and passion of the people involved, and reflect Jamie Oliver's own relentless commitment and focus to the cause, whilst the megaphone icon is a universal call to action explicitly asking people to pay attention and be part of the food revolution.
And when we look at brand design per se, the beauty sector—whilst maybe seen as something of a 'soft' industry —has actually been prolific and directive in terms of how to approach this new creative route. And one of the most interesting examples is S.O.P.H.I.E. by Llamascqua—a dedicated range of products in support of the Sophie Lancaster Foundation which is raising awareness of a teenager kicked to death for daring to look different. And this is not just an isolated charity link up for the brand but part of an ongoing philosophy in terms of approach and color and centred on "It's becoming who you are and not who you're told to be."
Forward-facing, bold brands like S.O.P.H.I.E and the Better Food Foundation show that there can be a place for a new opinion-based form of brand design but it's about the targeting, the timing and the tone. So much air-time is given to fashion, art and the other creative disciplines but brand design is the key consumer touchpoint. And as such, it needs to find a way to be as hard-hitting and as challenging as possible to fully meet and realize a new moral, social or ethical point of view—but it is a creative medium in its infancy.
Brands need to consider their messaging options not just their opinions. And, ultimately, it's not a question of whether brands should use design to voice an opinion but just how they do it.
About the Author

Darren Foley, Managing Director at Pearlfisher, London, joined the company in 2002 as Realisation Director, inventing the concept of realisation and advocating a design process in which our technical and creative teams work in harmony from the beginning. He has worked in the design industry for close to 25 years, starting out as a junior production artist, and amassing an unparalleled depth of knowledge for the discipline.