Coca-Cola has unveiled a trio of silver cans, developed by Marc Jacobs, the new creative director of Diet Coke (Coca-Cola Light) in Europe. The "I Heart" cans pay tribute to three decades in the world of fashion—the 1980s, 1990s and 2000s.
The first can, which represents the Eighties, features a female silhouette in a black suit with a butterfly bowties pattern in the background. The Nineties can showcases an extravagant lady wearing a fuchsia dress, long gloves, stiletto heels as well as a huge red felt hat. The third can design, which represents the Aughts, is inspired by the sportive energy and sexiness of this decade—it incorporates geometric patterns and a silhouette of a woman, wearing a houndstooth bikini bottom and tights with yellow and white stripes. Each can also features a tiny red heart embedded into the design.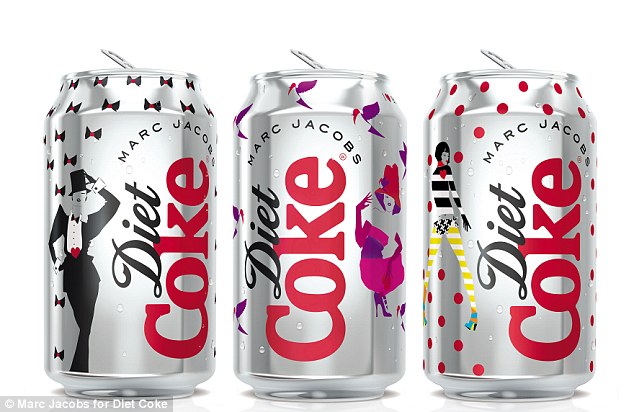 PhotoPhoto: Coca-Cola Light cans designed by Marc Jacobs, www.dailymail.co.uk
"I feel very privileged to be the new creative director of Diet Coke and put my stamp on the 30th Anniversary campaign. Diet Coke is an icon… and I love an icon," commented the designer on the new collaboration. The packaging with the new whimsical designs (featured on both cans and counter bottles), will be available from late February across 11 markets, including the UK, France, Benelux and Island.