H&M is contributing to the global recycling movement in a new way for the company. On February 21, the fashion retailer officially launched a new worldwide apparel-recycling initiative, which allows consumers to help save natural resources and get a little money in return. Customers can leave bags with used and unwanted clothing from any brand in the special green-and-white "Long live fashion!" containers across all H&M stores worldwide. The garments will then be recycled or reworn, depending on their condition.
On its official website, H&M explains how the garment collecting scheme works. The goal of the project is to save textiles from going to landfill, thus making apparel industry more sustainable and environmental-friendly. H&M accepts any clothing, in any condition, from any label. If it can be worn again, it will be sent to second-hand stores, and if not, it will be recycled.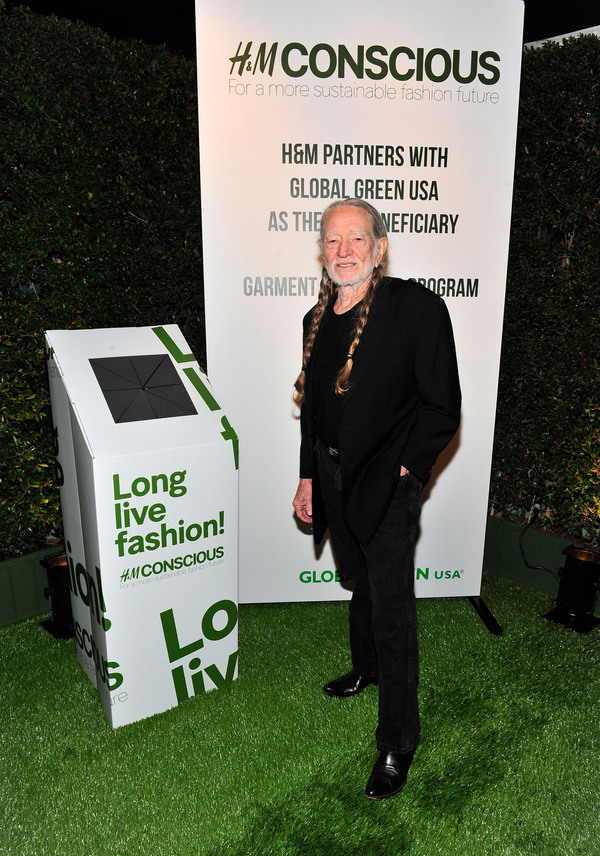 Photo: Willie Nelson at the launch of H&M's garment-recycling program in the USA (click to enlarge)
H&M repays the favor—for every shopping bag of old apparel, eco-conscious customers will be rewarded with a voucher of 15% off the item they will buy next, says the U.S. press release. On its website, H&M says it will give "a £5 voucher to redeem on your next purchase of £30 or more." Every shopper can bring in up to two bags every day.
As part of the initiative, which is rolling out across all 48 H&M's markets, the retailer has partnered with environmental organizations including Global Green USA and I:CO from Sweden. The raised funds will be used to reward the customers and support the work of the environmental non-profits.
H&M has contributed to the eco-friendly image of apparel industry by launching its Conscious collection and entering into a 3-year global partnership with WWF to develop a game-changing water stewardship strategy. Though the retailer plays a big role in bringing positive change into the area, it is not a pioneer here. The U.S. press release states that "H&M is the first fashion company to launch a global garment-recycling initiative," however,  M&S is known to launch a similar program, "Shwopping," in the UK back in April 2012.