The latest research by Kantar Media TGI argues the effectiveness of low-price messages in winning the UK consumers. According to the study, price and savings are driving the purchase decision of less than a quarter of shoppers in the country, while the rest of consumers get motivated by an array of other factors.
The research has revealed seven Shopper Archetypes, groups of British shoppers driven by some particular common motivation when purchasing goods. There are just two groups of consumers, Promiscuous Purchasers and Strategic Savers, for whom price does matter—they make up 8% and 16% of British consumers, respectively. One fifth of the consumers haven't determined the factors underlying their consumer choices.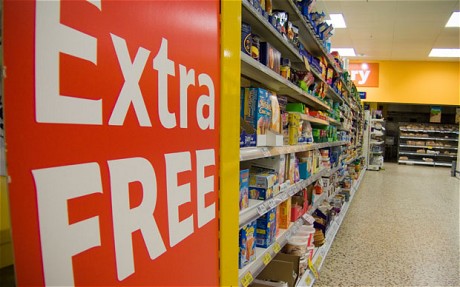 Photo: Money saving message in a supermarket, photo by ALAMY, www.telegraph.co.uk
The rest of shoppers get motivated by such factors as quality of produce, convenience, ethical considerations when making a decision on what product to buy. One of these remaining groups is Conscious Connoisseurs—it includes 1.6 million shoppers who choose their food carefully and are interested in the ingredients as the potential source of cooking inspiration. "Online marketers in FMCG might efficiently engage this group, with insights from Kantar Media Compete revealing that 24% of online grocery shoppers search for recipe ideas."
For Quality Crusaders, who make up 14% of consumers (4.5 million people), the product's quality is the crucial factor. Representatives of this archetype are "loyal" spenders—they are 40% more likely to spend over £90 a week on their regular shops than an average consumer.
"Price will always be a very important driver in grocery shopping decisions and has some influence on every shopper. However, our new Shopper Archetypes reveal that factors like convenience and quality are even more important to huge proportions of shoppers. If marketers can be more canny about targeting different kinds of shoppers with a focus tailored to what drives their grocery shopping, then they stand to make real gains over their rivals," commented Richard Poustie, Chief Operating Officer, Kantar Media TGI.