While Starbucks is helping create more jobs across the USA, M&M'S is set to provide more rehabilitate houses to people across the country. The brand has launched a new campaign entitled "America Better With M," which includes a partnership with Habitat for Humanity International and a series of efforts to encourage the nation to volunteer for the initiative in 2013. In addition the brand will launch a new product to support the project.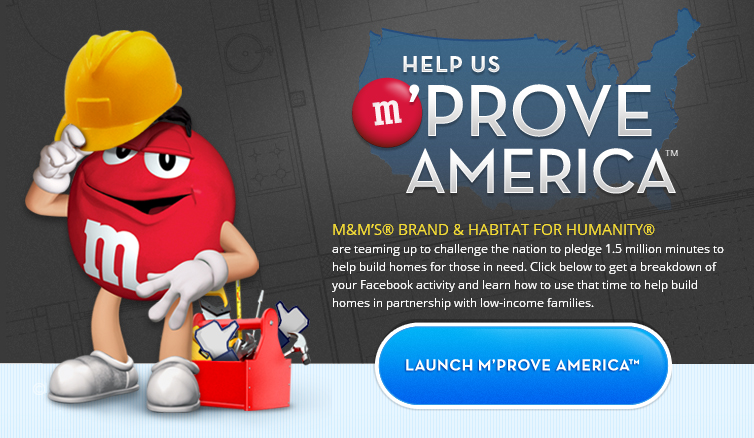 Pic.: A snapshot from the www.facebook.com/mms page
M&M'S fans can pledge at the brand's Facebook page to participate in the movement designed to "M'Prove America'" this year. The brand will be inviting its loyal fans to come and donate a total of 1.5 million minutes (25,000 hours) of their time, working at the Habitat for Humanity International construction sites across the country. As part of teh initiative, M&M'S will donate $500,000 to Habitat for Humanity International for building more homes. To encourage more people to join the movement, the brand will release special packs of the U.S. flag-inspired red, white and blue candies in summer.
"We know our fans are passionate about our brand but also about helping their neighbors. This year-long campaign is designed to leverage those passions to truly help make America better," commented Roy Benin, Chief Consumer Officer, Mars Chocolate North America.
The brand is now rolling out is "Better with M" year-long multichannel campaign across the country and encouraging the nation to share their best moments with the #betterwithmms hashtag. For the Super Bowl game, the brand has released a lovely ad, featuring actress Naya Rivera M&M'S character Red, which would do nearly anything for love.