Following Apple, Microsoft, BlackBerry and Google, Mozilla is launching its own Firefox OS to be used in smartphones from Alcatel, LG, ZTE and later Huawei, all powered by the Qualcomm Snapdragon™ chipset. Unlike rival iOS and Android OS, Mozilla's OS is a free, open-source technology that provides more freedom to mobile carriers and, more importantly, to developers, enabling them to develope every feature as an HTML5 application. 
The new operating system was unveiled at the Mobile World Congress, taking place in Barcelona through February 28.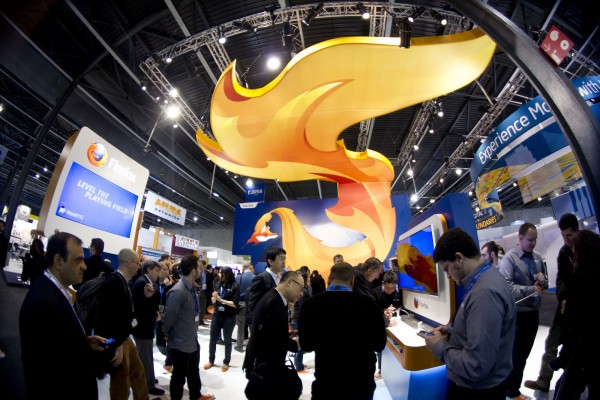 Photo: Mozilla's booth at Mobile World Congress in Barcelona (click to enlarge), wwww.blog.mozilla.org
For the initial roll out of the Firefox OS, the company has chosen nine Latin American and European markets such as Brazil, Colombia, Hungary, Mexico, Montenegro, Poland, Serbia, Spain and Venezuela.  It has been supported by 18 mobile operators around the globe, including América Móvil, China Unicom, Deutsche Telekom, MegaFon, Telecom Italia Group and VimpelCom to name a few.
One of the most positive things about the new OS is that it allows developing every feature via HTML5, hence the smartphone's own programming is not a key here. Before Firefox OS, every piece of content had to be approved by developers, who created it, which generated unwanted extra tension.
The apps for devices running on the new OS will be available on the upcoming Firefox Marketplace (read more about it on Mozilla's official blog).
"Firefox OS brings the freedom and unbounded innovation of the open Web to mobile users everywhere. With the support of our vibrant community and dedicated partners, our goal is to level the playing field and usher in an explosion of content and services that will meet the diverse needs of the next two billion people online," commented Gary Kovacs, CEO, Mozilla.