Adidas is opening its archives for the global audience at its newly launched interactive website. There, the brand tells the stories behind its sportswear, showcases the images of autographed shoes and prototypes, retro commercials, and catalogues from the 60's, 70's and 80's, covering the three decades of its presence on the global market. 
To learn more about the products, users can click on them on the three-level automatically spinning Tower (it can be rotated manually on mobile devices, too) or browse the themed exhibitions.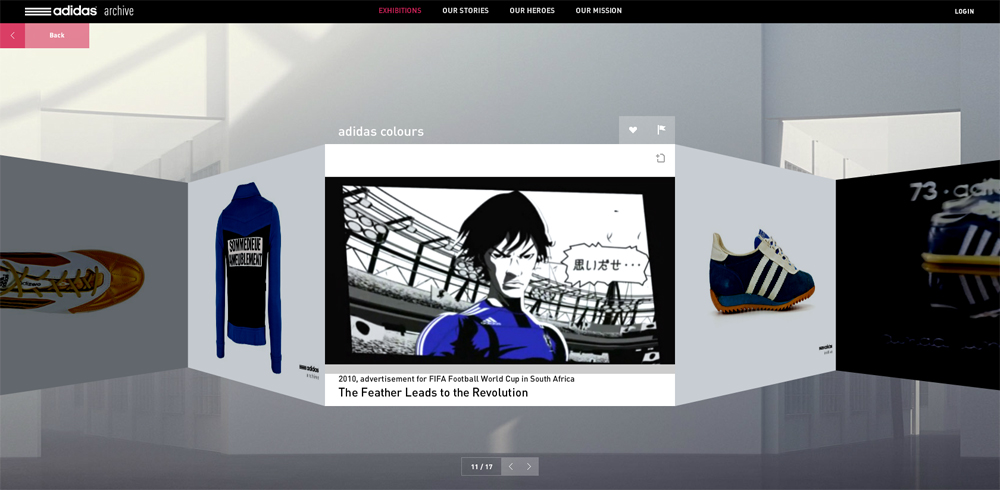 Pic.: A screenshot from the www.adidas-archive.org (click to enlarge)

The Our Stories section provides an insight into the legendary moments in the history of the brand in videos. The spots tell about the brand's father Adi Dassler, adidas Superstar shoe, the brand's passion towards innovation and its connection with Olympics.
In the Our Heroes section, legendary athletes and experts share stories about their favorite adidas items—wearing white gloves, they take out shoes and apparel from the special metal deposit boxes and start their narration. The Heroes are runner Stan Smith, footballer Zinedine Zidane, fashion designer Jeremy Scott, runner Haile Gebrselassie, and trefoil expert Marc Lohausen.
In 2011, Levi's launched a similar project to showcase its vintage items online, and in late 2012, Ralph Lauren also invited its consumers to browse through its collections archive.