The latest campaign for AXE US focuses on the face skin theme and encouraging guys to test their faces to see how well they score on the game of attraction. To promote the new AXE Face skincare range, the brand has launched a dedicated digital platform AXE Facescore  on Tumblr, which invites fans to vote on funny photos and get engaged by sharing their own pictures on Tumblr, Twitter or Instagram with the hashtag #facescore.
The voted photos land on 1-5 levels, depending on their popularity. In coming days, the brand will also launch the "Chase the Facetouch" challenge—so far, the competition button is inactive.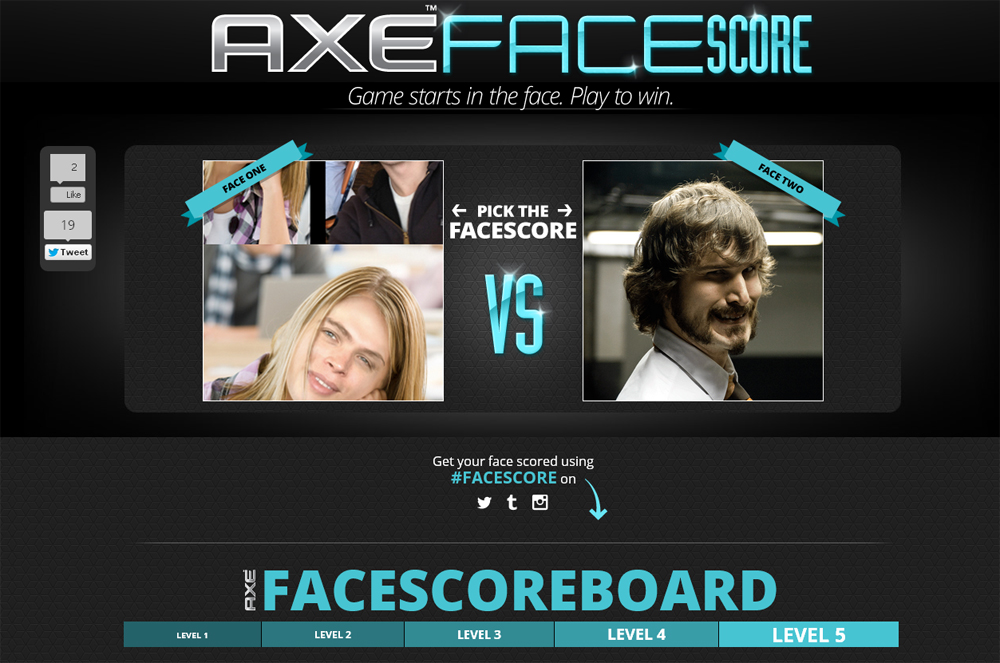 Pic.: A screenshot from the www.facescore.tumblr.com website (clickable)
To support the initiative the brand teamed up with action film star Adrianne Palicki and Denver linebacker Von Miller. During the yesterday's launch event in NYC, the celebrities went through a series of "physical and mental challenges that will test their ability to save face under pressure" using the new AXE Face range.
The US-based AXE Facescore is the latest initiative on the list of the brand's local campaigns. The brand, which is popular around the globe, launches both international activations (such as the much-discussed AXE Apollo) and local efforts like AXE Ex-Friend in Brazil or AXE Campus in Russia.