The classic Mini cars along with Dolly the sheep, 3D displays, holography, liquid crystal, world wide web, and some other groundbreaking technical discoveries made in the U.K., have been nominated for the title of the best Great Britain's past innovation. The British Science Association has invited the international audience to cast a vote for the most important and influential British Past and Future Innovations. The resuls of voting in both categories will be revealed on March 25.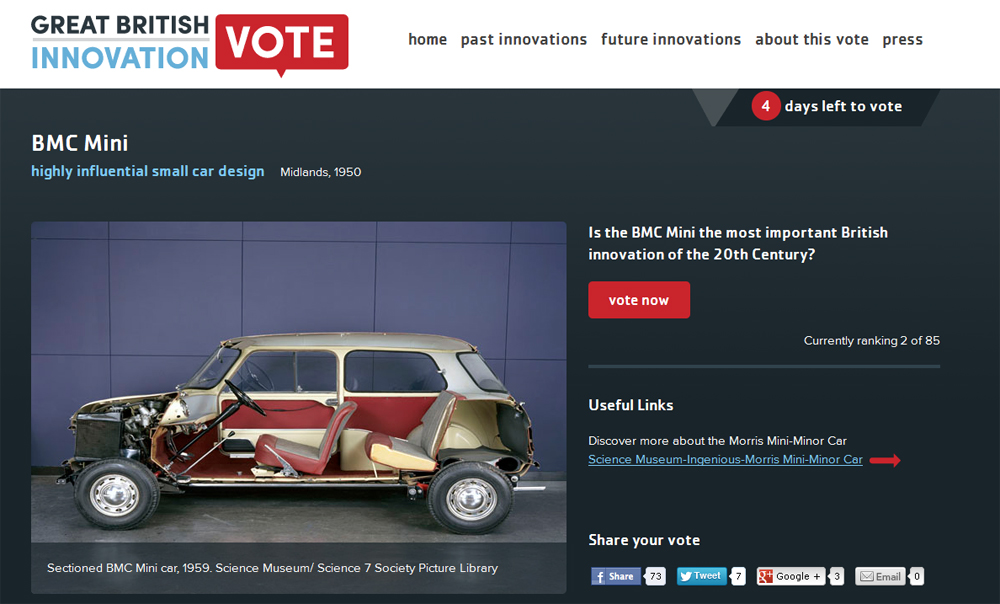 Pic.:A snapshot from the BMC's Mini page on www.topbritishinnovations.org (click to enlarge)
A Mini car, created by the British designer of Greek origin Alec Issigonis and manufactured by the British Motor Corporation in 1959, was included on the list due to its great influence on car design. The small car with a big future was developed to meet the growing demand for more efficient vehicles. "The popularity of motoring had increased hugely following the Second World War. But the fuel shortage resulting from the Suez crisis also increased demand for economical cars. Britain had seen a sudden influx of German and Italian 'bubble' cars and designers wanted to create a domestic alternative," as stated in the BMC's Mini description on the voting site.
The British version of a smaller car, which was just 10 ft (3 m) long, not only dominated the local market, but also became an ideal small car incarnation for the global car industry. "In design terms the car became extraordinarily influential and the compact transverse front engine layout became standard for smaller cars from all makers."
As of March 21st, Mini, the only consumer brand on the list, is voted the top third British innovation of the past with 8%. The online votes are accepted here until March 24, 2013.