Facebook is now allowing advertisers to better target their potential customers to improve the performance of their ads on the platform. The new option, Lookalike Audiences, is rolling out within Power Editor this week. On the Help page, the company describes this feature as a way "to reach new people who are likely to be interested in your business because they are similar to a customer list you care about."
The new addition is an extension of the Custom Audiences targeting feature, launched in the fall of 2012. It was designed to let marketers find their current offline customers on Facebook using their phone numbers, email addresses and Facebook IDs, and further engage them online with the targeted ads. Lookalike Audiences allows marketers to search users, who share the same interests or demographics as those on the current client list, and also shows all types of ads available on Facebook to these groups. The company notes that the feature can contribute to a business in at least five areas including fan acquisition, site registration, off-Facebook purchases, coupon claims and brand awareness.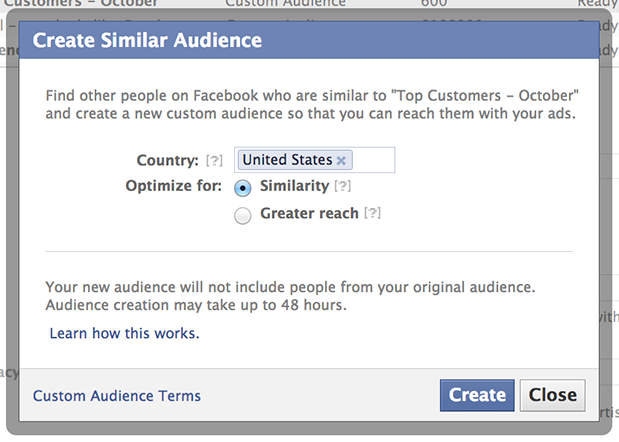 Pic.: Creating ads with the lookalike audience feature, www.facebook-studio.com
To create an optimized Facebook ad for lookalike audiences, marketers will be able to choose from the two options, Similarity or Greater reach. The Similarity option implies that the ad will be shown to the top 1% of people in the selected country who are sharing the most similar interests with the custom audience (ideal for limited-budget campaigns). The Greater Reach option allows to target 5% of people in the selected country, but the interests match will be less precise (ideal for spreading the messages to the broader, "prepared" audience).
"We've seen this new type of targeting drive a wide range of success metrics for direct response companies like Fab, including lower cost per checkout, lower cost per acquisition, larger purchase size, and faster and increased return on investment," wrote the company on the Facebook Studio blog. Historically, this approach has proved to be effective both offline and online, so the feature is sure to be a valuable addition to the range of the Facebook advertising tools.