Now, taste, smell and look are not enough to render the full picture of the food product. Acclaimed food designers Bompas & Parr created a musical spoon and a set of vibrant handmade bowls that capture the character of the five new flavors of Heinz baked beans—Curry, Fiery Chilli, Barbecue, Cheddar Cheese, and Garlic & Herbs. The most impressive piece in this state-of-the-art experience is the spoon with a very small embedded MP3 player—it plays the tunes only when is put into a person's mouth, all to enhance the key flavors of each variety.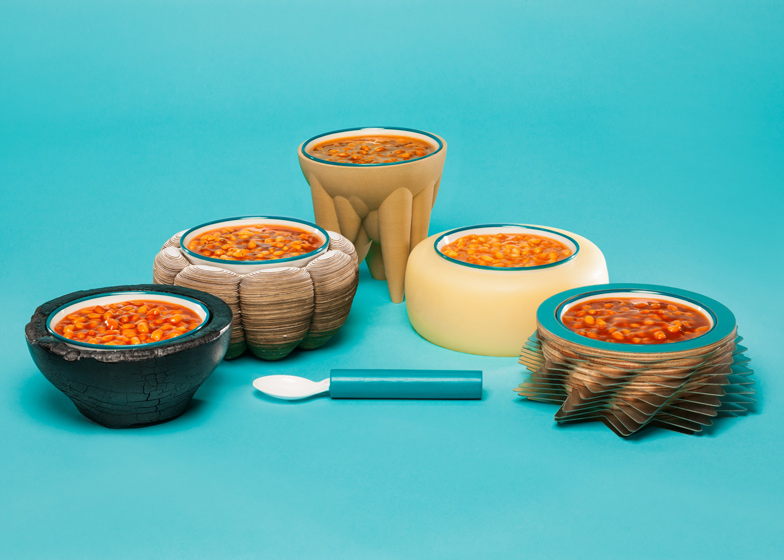 Photo: A range of Heinz Flavoured Beanz sets (click ro enlarge), www.dezeen.com
"Created to tap into all five senses the 'Flavour Experiences' marry sound, taste, touch, sight and smell, to provide the ideal sensory environment in which each dish should be eaten," states the brand.
To hear the theme, the diner has to bite the spoon slightly, causing the sound vibrations to travel through the person's jawbone straight to the ear.  The bowls' designs and tunes were influenced by the product's «personality.» For instance, the look of the bowl for the Curry Flavoured Beanz is inspired by tall piles of oriental spices—as the soundtrack, Bompas & Parr selected a percussive bhangra soundtrack created using the sounds of tin cans filled with various spices and seeds. The bowl for Garlic and Herb Flavored Beanz is designed as a half of a naturally-looking enlarged garlic bulb, and the soundtrack was made using the sound of rustling garlic skins accompanied by rattling tin cans.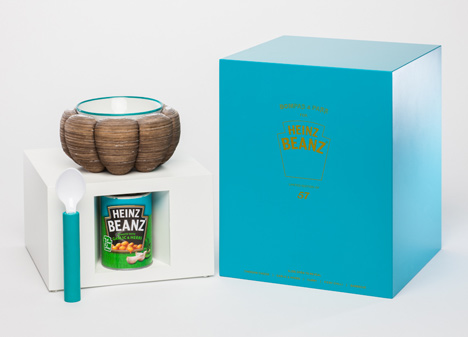 Photo: Heinz Beanz Garlic & Herbs Flavour Experience set, www.dezeen.com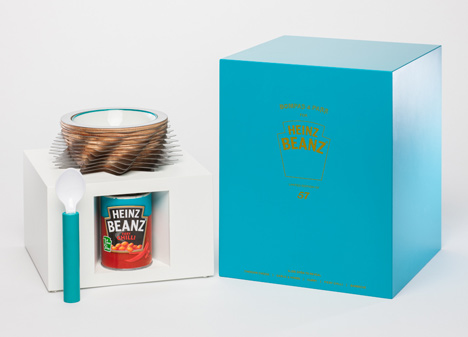 Photo: Heinz Beanz Fiery Chilli Flavour Experience set, www.dezeen.com
The limited-edition bowls with the music spoon can be purchased for £57 exclusively from Fortnum & Mason in London starting March 25. The Heinz Flavoured Beanz cans are available now in 390g cans at 84p—they can be spotted in leading supermarkets across the UK.
"Harry Parr has synesthesia and is using this alongside his architectural training to project himself (intellectually if not physically) into the Heinz Beanz Flavour Experience. The bowls and spoons give the diner a total sensory experience fully exploring the taste, haptic and sonic aspects of Heinz Beanz," commented Sam Bompas, of Bompas & Parr. «The project is geared to get people to look again at what is on the end of their spoons. As they eat their Beanz they can wonder at the world of flavours that contributes to everyday culinary sensation. Ultimately the project is designed to showcase the various flavours of Heinz Flavoured Beanz and touch people's most sensitive organs…their bellies."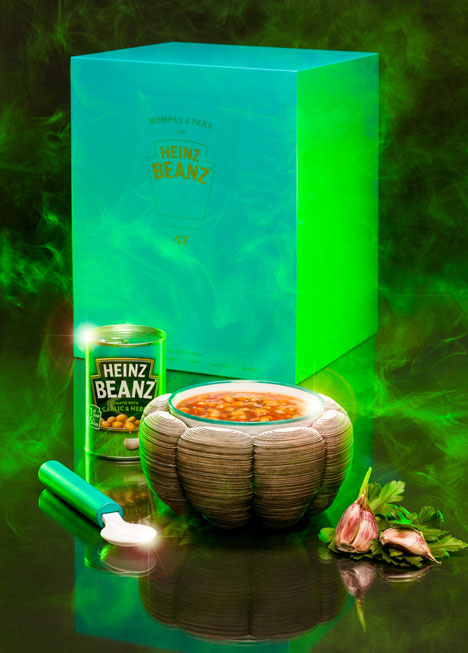 Photo: Heinz Beanz Garlic & Herbs Flavour Experience (click ro enlarge), www.dezeen.com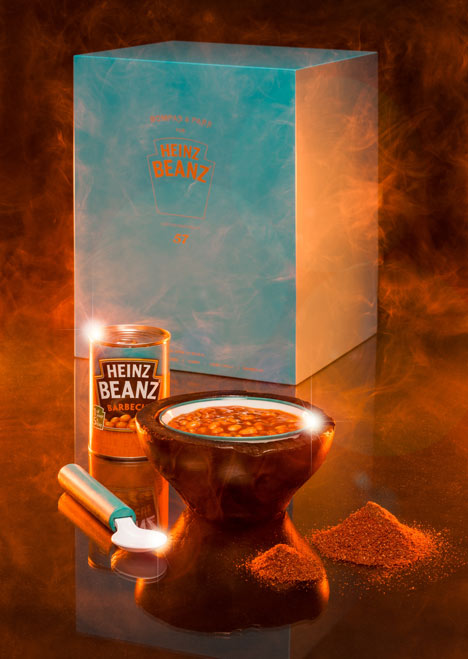 Photo: Heinz Beanz Barbecue Flavour Experience (click ro enlarge), www.dezeen.com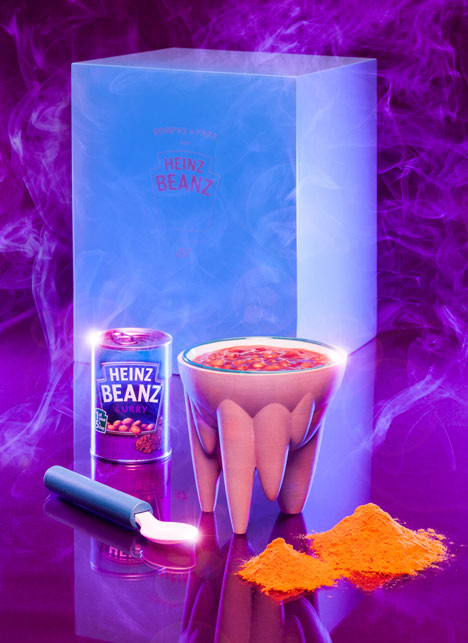 Photo: Heinz Beanz Curry Flavour Experience (click ro enlarge), www.dezeen.com