Ford Motor Co. is employing the "don't choose, take both" theme in its latest U.S. campaign titled "AND not OR." The new cross-channel push, which is set to roll out in April, is designed to promote Ford's EcoBoost engine family that is positioned as an alternative to many eco-vehicles by other auto brands on the market. The promotion takes on the common misconception that owners of the "green" cars have to choose one thing from two important ones—the ads say that there should be no bargains when it comes to comfort and performance. The campaign will include humorous prints, TV commercials, followed by social media and digital promotions.
The prints highlight the five Ford super segment vehicles—the Fiesta, Focus, Escape, and Fusion,—which are available with EcoBoost engine option, along with the C-Max Hybrid that lacks it. The ads ask consumers an alternative question, which can't be answered, as it's impossible to choose from the two suggested inseparable things. For instance, the print with the Escape car asks "Bed OR Breakfast?" and adds «Best in-class highway fuel efficiency AND available foot-activated liftgate. And is better. The 2013 Escape with EcoBoost."
In the visual for the Focus vehicle, another word-pair is used "Health OR Fitness," followed by a short description saying "EPA-estimated rating of 40 mpg hwy and available voice-activated Sync technology. And is better. The 2013 Focus." Ford will add more examples of such «matches»—the list of the legendary "word marriages" is virtually endless.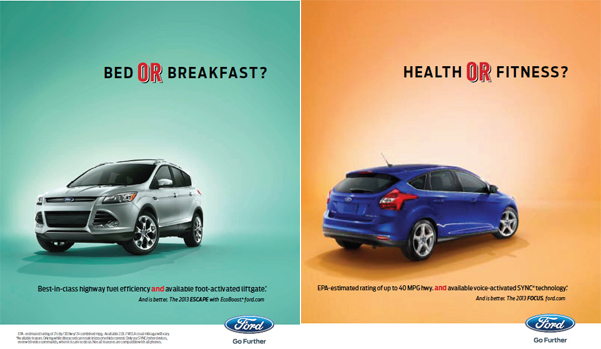 Photo: Ford's "AND not OR» prints (click to enlarge), www.brandchannel.com
First introduced in mid-2009, the engine was installed on a range of the Ford vehicles and helped boost the brand's sales. Currently, Ford offers three versions of its eco-engine, 1.6- and 2.0-liter four-cylinder ones and the 3.5-liter V-6, with the fourth 1.0-liter three-cylinder version to arrive later this year in the 2014 Fiesta. Within the first two months of 2013, nearly 97,000 EcoBoost-equipped Ford vehicles were purchased, which is more than three times the year-earlier volume. Ford claims that the eco-engine provides 20% better fuel economy than larger gasoline engines. Ford is also planning to launch a series of EcoBoost Challenge events aiming to drive awareness of the new offering among the owners of other car brands.
«We invited non-Ford owners to experience Ford vehicles and competitive vehicles. This campaign will capture their unbiased feedback and impressions. Most buyers have to sacrifice fuel economy for performance. With EcoBoost, you don't have to,» shared David Mondragon, general marketing manager for Ford and Lincoln. With the new campaign, Ford joins its competitors Volkswagen, Toyota and Honda in promoting the green character of their cars with a playful approach. By the way, the last brand launched a similar "no need to compromise" promotion for its Civic model.
Potentially, the new Ford campaign can have a naughty twist if the brand decides to add some controversy with the word pairs. But most likely, the company won't like to provoke another wave of negative feedback after the recent sexually-related scandal. Earlier this week, the brand apologized for three offensive cartoonish visuals with the Ford branded emblem, depicting tied-up women in the Ford Figo car available in India. According to Chris Preuss, Ford spokesman for WPP, the prints were just "a creative exercise by a team that was submitting for an ad competition. They were actually posters uploaded to a website, which is where it all took off from." Ford shared in the official statement that they also «deeply regret this incident and agree with our agency partners that it should have never happened.»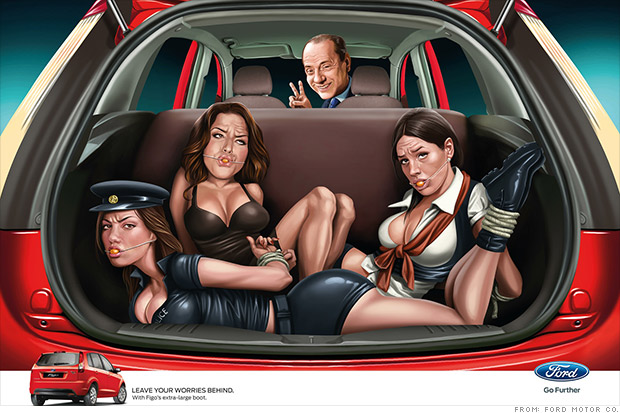 Pic: one of Ford's banned printed ads, www.cnn.com, нажмите, чтобы увеличить