Honest Tea, famous for its no-nonsense approach to marketing and the philosophy of honesty, has created a comic book to tell its corporate history in pictures. The "Mission in a Bottle" book highlights the Honest Tea's journey, full of both missteps and right decisions, that led to success.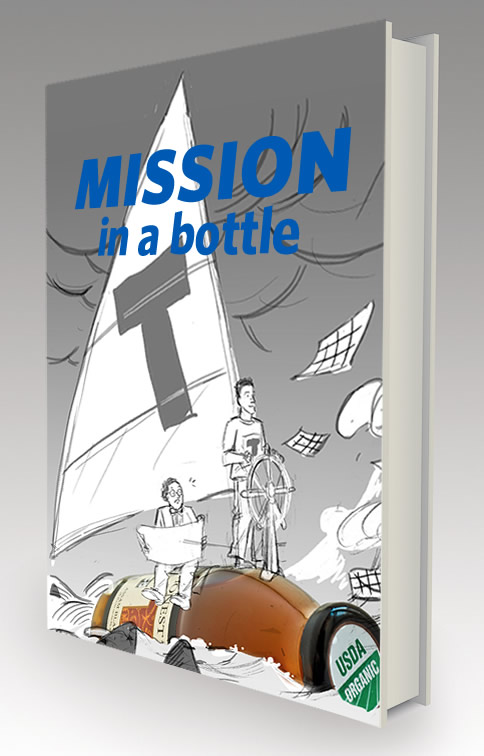 Pic.: The Honest Tea «Mission ina Bottle» book cover, www.missioninabottle.net (click to enlarge)

The story, illustrated by graphic artist Sungyoon Choi, is written by Honest Tea co-founders Seth Goldman and his professor at the Yale School of Management Barry Nalebuff. They really have a lot to tell about building a truly flourishing brand—founded in 1998 and sold to Coca-Cola in 2011, it experienced a lot of ups and downs, rising from $1.1 million in sales in 1999 to $75 million when was bought out by The Coca-Cola Company. Their major goal was to make "bottled iced tea that actually tasted like tea."
The book, which will be available starting September 3, 2013, can be pre-ordered on the website, MissionInABottle, in one of the four packages. These are The Sip (one copy of the book, one signed book plate, 1 limited-edition T-shirt) at $25, and much bigger kits The Full Serving at $225, Multiserve at $550, and The tea Party at $2100. The budget of the marketing campaign is not disclosed, and according to The New York Times, it is separate from the company's advertising spends.
"We created this book for much the same reason we founded Honest Tea; we wanted a book that we wish we could've read before we started out. While this is a story about building a brand, it's also a story where life gets in the way. We share some of the personal struggles any entrepreneur inevitably faces while trying to balance the demands of raising a company and a family," say authors of the book on the dedicated page.
In fact, the new business book is targeting not Honest Tea consumers, but aspiring entrepreneurs, who are thinking of or start developing their businesses. To support this mission, the first year's proceeds will be donated to three nonprofits, including the National Foundation for Teaching Entrepreneurship, writes The New York Times.
The "Mission in a Bottle" book, created in the easy-to-digest visual format, joins other business guides and 'life story' books by major brands including Starbucks and Coca-Cola.