Mintel and Leatherhead Food Research have released a study that shows that natural colors are overtaking artificial/synthetic colors in food on the internatioanl scale. According to the research, the global sales of natural colors exceeded those of artificial ones, meaning that food and drink products all around the world now feature more organic components than before.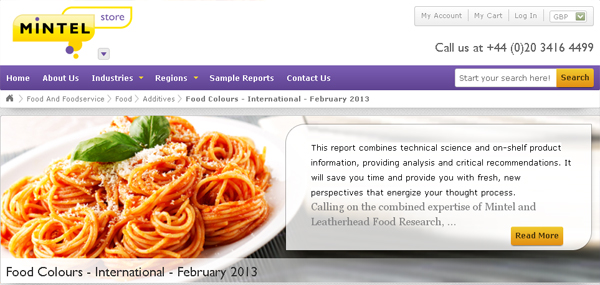 Pic.: A snaphot from the www.mintel.com website
The report reveals that the global sales of natural colors amounted to an estimated USD 600m in 2011, up by almost 29% from 2007. In general, the share of the total food colors market taken by natural varieties has increased from 34% in 2007 to nearly 39% in 2011. As to the artificial/synthetic colors market, it has risen by under 7% over the last three years (2007–2011) and is now worth USD 570m, making up 37% of the overall market (in 2007, it has a 40% share). The international market for food colors was set at an estimated USD 1.55bn in 2011.
"The results of the Southampton Six study has really accelerated the move toward natural colours in Europe, but other regions are also following suit as the consumer demand for more natural formulations builds and as key producers and retailers look to phase out artificial ingredients," commented Chris Brockman, Senior Global Food and Drink Analyst at Mintel.
Most of natural colors (70%) are used by the foods industry, while soft beverages are taking 27% and alcohol drinks having a small share of 3%. In general, the ratio of natural colours and artificial/synthetic in new portions of food and drinks is 2:1.
Europe tends to be using more natural colors than other markets across the globe (85% of new product launches between 2009 and 2011).