The war between Samsung and Apple is escalating and moving from the tablet and smartphone market to wearable electronics. Shortly after the speculation about Apple's upcoming smart watch spread, Samsung Electronics Co. announced it was developing a high-tech wristwatch, too. This news follows the last week's release of a new flagship phone, the Galaxy S4. 
"We've been preparing the watch product for so long. We are working very hard to get ready for it. We are preparing products for the future, and the watch is definitely one of them," commented Lee Young Hee, executive vice president of Samsung's mobile business, in an interview to Bloomberg. So far, the company declines to comment on the price, the launch date and the specification of the upcoming product.
Both Apple and Samsung are tapping into the relatively new emerging niche of smart wristwatches, as their 'core' market of mobile phones, with a global turnover of $358 billion is close to saturation. As Bloomberg Industries data shows, the growth in this segment is slowing down from  27% this year to predicted 9.8% in 2017.
Experts believe that functional and affordable smartwatches under $200 can be a new Klondike for the tech manufacturers, as at least 25% of existing Samsung smartphone and tablet users would be eager to buy such a wearable device, Laurence Balter, chief investment strategist at Oracle Investment Research, shared his predictions with Bloomberg.
Despite the overhyped media buzz around Apple's and Sumsungs 'to be unveiled' wristwatch-like microcomputers, their competitors have already released their variants, however, with little success. Back in 2009, LG developed a GD910 watch phone, available in the U.K. only at £1,000. Another try was made by Sony last year. Their nice and sleek $150 Android-based SmartWatch didn't seem to win users' love either, but got a couple of slashing reviews by tech blogs.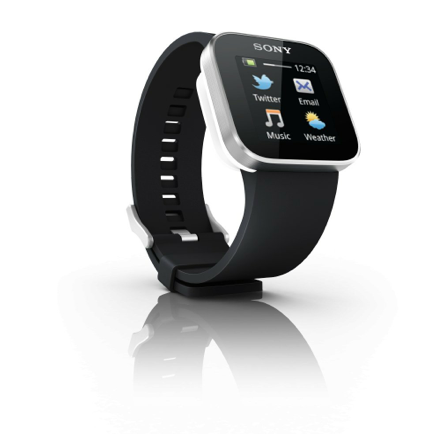 Photo: Sony Smartwatch, product image from Amazon