Samsung's another "next big thing" is to arrive soon. The tech giant is going to unveil the Galaxy S IV smartphone, which potentally can start a new era in the industry thanks to its "eye scrolling" feature. The new groundbreaking device, allowing to read hands-free, will be unveiled at the Unpacked event slated for March 14 in New York.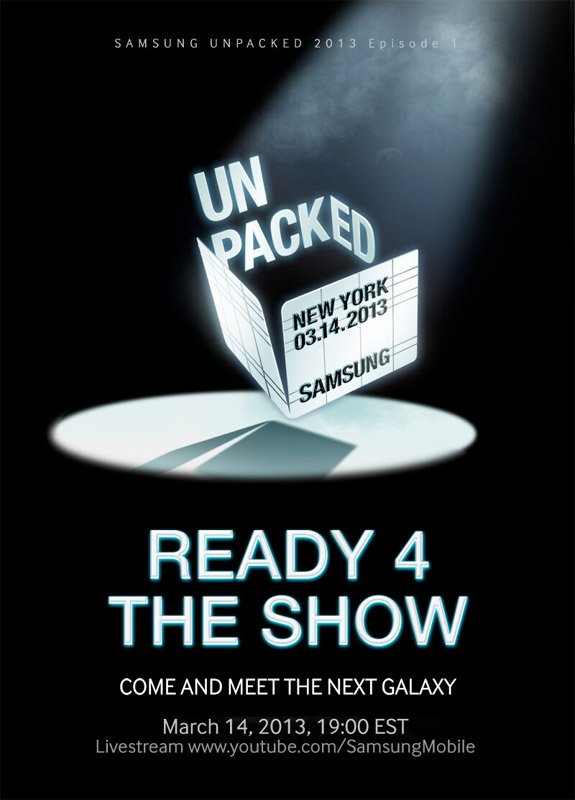 Pic.: The announcement poster of Samsung's Unpacked event

The new phone will interact with a user on a wholly new level. According to The New York Times Blogs, the motion of a user's eyes will be tracked in order to determine where to scroll. When the eyes reach the bottom of the page on the screen, the smartphone automatically skips to the next paragraphs, no tapping will be needed. The information was obtained from a Samsung employee who shared the information on condition of anonymity. The source also added that "over all, the software features of the new phone outweighed the importance of the hardware." No further comments on the new phone and its features were obtained.
It is not the first time Samsung uses the eyes motion to activate some functions on the phone. For instance, the Galaxy S III smartphone has the Smart Stay feature, which enables the front facing camera to keep the screen lit up while a user is looking at it.
The rumors about the eye scrolling software are supported by the fact that in January Samsung filed for a trademark "Eye Scroll" (No. 011510674) in Europe. In February, the company also filed for the "Samsung Eye Scroll" trademark in the United States. Here's how the new feature is explained in the description: "Computer application software having a feature of sensing eye movements and scrolling displays of mobile devices, namely, mobile phones, smartphones and tablet computers according to eye movements; digital cameras; mobile telephones; smartphones; tablet computers." In addition, the tech giant has also filed for the trademark under the "Eye Pause" name, but no information has been provided on this feature.
Samsung has released a teaser spot to introduce a boy named Jeremy, the secret messenger of Samsung UNPACKED 2013, who was among the first to see the new product. Watch the video below.