The World Federation of Advertisers (WFA) and Edelman have conducted a collaborative research, which proves that social purpose is increasingly important to building brands in the coming years.
While WFA's study focuses on the marketers' perception of social purpose and to what extent it influences the brand's success and performance, Edelman's annual goodpurpose® report explores consumers' perception and attitudes around social purpose, regarded as a commitment of brands and corporations to help solve societal problems, including environmental. Despite some shared findings, each of the studies reveals some conflicting points.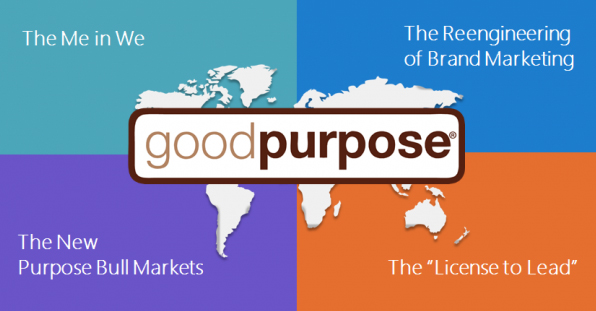 Pic.: Edelman's goodpurpose® report, www.purpose.edelman.com
Key findings of the researches:
1. The perception of the term "social purpose" by marketers and consumers slightly differs. While they agree on the definition of purpose as "creating programs to positively impact the community," "protecting and improving the environment" and "ethical business activities", Edelman's research additionally outlines that consumers see important purpose of  brands and companies in "addressing social issues oriented around employee welfare and listening to and acting upon customer needs and feedback".
2. Marketers recognize that social purpose is important for building a strong brand. According to the research, "88% agreed or strongly agreed it would be 'increasingly important to building brands,' 83% that it is 'important for a brand to have a sense of purpose' and 81% that it was 'a business opportunity'." However, here comes the first controversy in WFA's and Edelman's studies. WFA reports that 46% of marketers think that consumers tend to support good causes, while Edelman's study says that 60% of consumers do so. The proportion of global consumers, who think that brands can successfully combine their support of good causes with making money, also differs in WFA and Edelman's reports (56% vs 76%, respectively). 
3. Are consumers in developed or developing markets more purpose-led, when it comes to making purchase decision?  This question brings another conflict in the Edelman and WFA findings. WFA reveals that European consumers are more likely to purchase goods and services based on good causes (58%), followed by consumers in North America (36%), Asia (5%) and South America (1%). Edelman, vise versa, states that consumers in rapid growth economies such as China, India, Indonesia, Malaysia, UAE and Brazil are more motivated for purchasing purpose-infused brands than consumers in mature markets.
4. Only 38% of respondents feel the brands they work for are communicating their purpose effectively. The purpose program is expected to have the "top down" nature, meaning that CEO (according to 80% of respondents) and CMO (74%) are the ones who should take responsibility of designing and shaping the purpose of the brand. Slightly over a half of marketers (53%) agreed that employees should get engaged in this process. Most of respondents (88%) believe that "purpose needs to pervade the entire organization and have buy-in from all business functions." Despite recognizing the high importance of purpose for a brand, only 49% marketers said the brands they are working for had a general sense of purpose and just 38% believed that their companies communicate the purpose successfully to consumers.
5. Unilever named the global purpose leader amongst Ad Age top 20 global marketers. Coca-Cola and P&G (16% both) are the second and third, respectively. McDonald's is the forth with 11%.
The Edelman survey was conducted in 16 countries among 8,000 adults, while WFA received feedback from 149 senior marketers on behalf of 58 companies in over 40 countries for the companies representing over $US70 billion in ad spend.
Read the full copy of the WFA's study and the Edelman's annual goodpurpose® report.