Wrigley, a subsidiary of Mars Inc., is adding some energy to its product range. The gum manufacturer is launching its new Alert Energy Caffeine Gum brand on the U.S. market as an alternative to such traditional energizing products as coffee, tea or energy drinks. The new product, which is targeted at consumers aged 25 and older, will be carrying warning labels with information on the caffeine component to help them control their daily caffeine intake.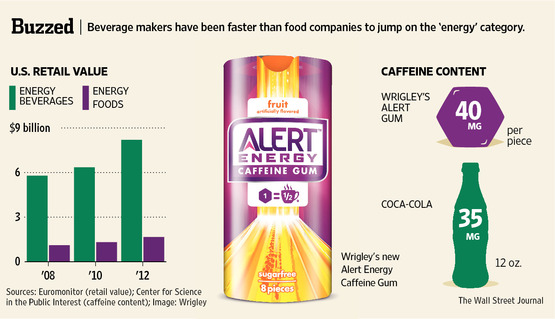 Pic. Wrigley's Alert Energy Caffeine Gum, www.online.wsj.com, click to enlarge
The new gum contains 40 milligrams of caffeine per pellet, which is equal to half a standard eight-ounce cup of coffee. Alert Energy Caffeine Gum comes in two flavors, mint and fruit, and is sold in tubular packages containing eight hexagonal gum pieces. The gum will be available at a suggest retail price $2.99 across the U.S. market starting next month. The back side of the packaging says that gum is "not recommended for children or persons sensitive to caffeine."
The new product is created with a purpose to re-energize consumers, not to deliver a great flavor. Alert Energy Caffeine Gum will have a bitter, medicinal taste, so kids are not likely to love it. "If you come at this as a piece of gum that you chew for enjoyment it's not going to deliver on that. What we found from energy [drink] consumers is that they're used to this taste. It's symbolic of efficacy. We've taken great pains to make this different than traditional gum," commented Casey Keller, president of the North America division of Wrigley, to The Wall Street Journal.
The size of the new gum pieces—about the diameter of a nickel—is believed to discourage consumer to take several pellets at a time. The pack contains eight pieces with 40 mg of caffeine each, while a maximum daily intake is set at 500 milligrams (larger doses can cause bad effects including insomnia, nervousness and rapid heartbeat). It is not the first time Wrigley creates a caffeinated gum—back in 1997, it developed the Stay Alert gum for soldiers with 100 milligrams of caffeine per piece. This month, the brand changes its name to Military Energy Gum in order to avoid confusion with the new offering.
Wrigley will be promoting the new brand with an extensive integrated marketing campaign, which will include sampling at stores and other advertising activities. "The other gums that have come into the market don't have broad distribution. We're going to put full marketing support behind this," added Mr. Keller.