Adidas has unveiled the 2013/14 Chelsea Home kit, which focuses on the dominant color of the legendary London Football Club's visual identity—the blue. Just like Guinness used to 'paint' the town black for Arthur's Day in a festive commercial back in 2012, in the new video adidas covers footballers with the blue paint—as part of the "It's Blue, What Else Matters" advertising campaign. 
The viral spot gleans inspiration from the nickname of the team, 'The Blues', and features the Na'vi-looking Chelsea leading players: club captain John Terry, David Luiz, Juan Mata and Gary Cahill, who appear bare-chested on the screen with the blue paint all over their bodies, including heads. The thick cobalt liquid slowly spreads all over the white space, flowing out of the locker and falling down from the ceiling. In one scene, the flow gets divided into three "streams" and in the end fingers mark three lines over the liquid—all to symbolize the brand's three stripes symbol. The video is set to an energetic track by Wizzy Wow, which starts with several bumping sounds to create some tension.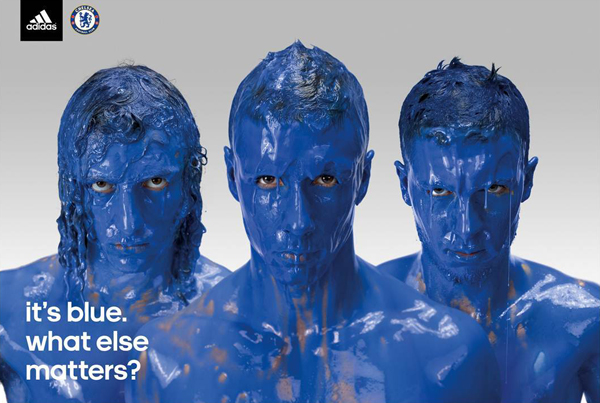 Photo: A visual from the new Chelsea home kit campaign
"The campaign was created based on the insight that Chelsea can clearly own 'blue' as a colour. Not only do they sing about it, but they are the only club in the English Premier League that call themselves 'The Blues'," commented adidas spokesperson. "Seeing the players take part and show their commitment to the colour and the lengths that they will go to will inspire the fans and show the club as they have never been seen before." See the making-of video below.
Fans, impressed by the film, can prove their passion for 'The Blues' and pre-order the home kit here without seeing it. Consumers can find there nothing but simple blue clothing pieces without any prints and paint-covered chests with the three stripes lined with fingers on the skin. Online purchase will be available since May 15.