BMW has collaborated with internationally celebrated French design duo, brothers Ronan and Erwan Bouroullec, to create a state-of-the-art installation for the Salone del Mobile 2013, taking place in Milan April 9-14. The new construction named QUIET MOTION mirrors the BMW's design philosophy and the fair's mission to showcase the innovative approaches in the field of furniture and living space design.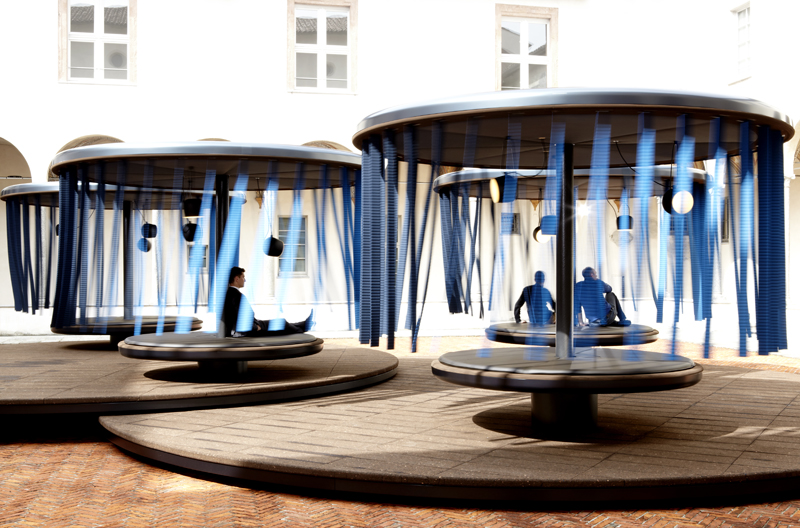 Photo: BMW's Quiet Motion at Salone del Mobile 2013 (click to enlarge), www.press.bmwgroup.com
"QUIET MOTION is about a timely discourse on a new concept of mobility and a focus on sustainability. At its core are innovative solutions such as alternative drive systems tailored to the urban environment. Our aim is to offer consumers an opportunity to rethink by presenting them with new concepts from the automotive industry," stated Benoit Jacob, Head of BMW i Design.
The installation of 17 x 14 metres is designed as a contemporary set of four carousels moving slowly on different levels. The project draws inspiration from the BMW i's universe—from its lightweight construction, sustainable materials, transparency and the new, quiet driving experience. The constriction has been developed with a strong focus on eco-friendly philosophy of the BMW i range, which has been reflected in the selection of materials chosen for the work.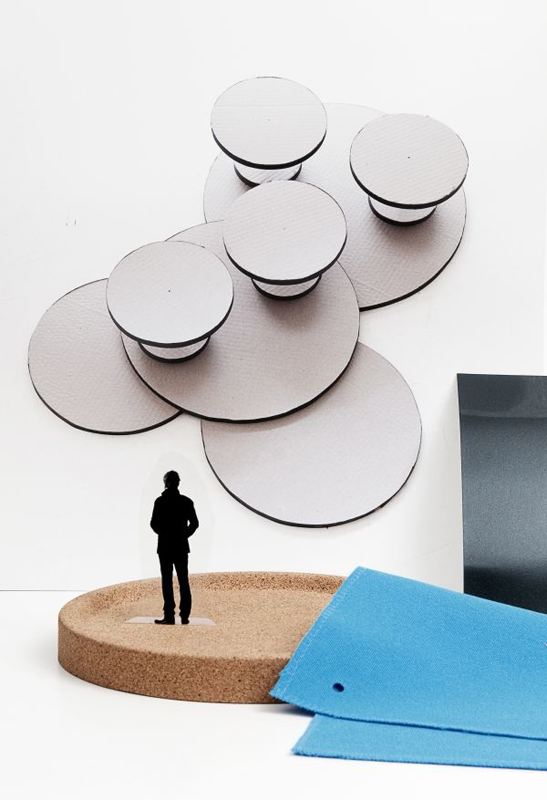 Photo: BMW's Quiet Motion—model and materials (click to enlarge), www.press.bmwgroup.com
The lightweight but rigid column of the carousel is made of carbon made from renewable energy sources. The designers have taken vegetable-tanned leather (also used for BMW i car seats) and sustainable wool yarn to upholster seats on the platform that is partially made of cork, one of the most eco-friendly and renewable materials in the world. The roof is made of fiberglass, covered with weather-resistant BMW i bodywork paint—it is also adorned with lining on the underside, made of the fabric used in the roof liner of the upcoming BMW i. The blue textile strips, which are hanging down and moving gently as the platform rotates, serve as a light transparent curtain between the "passenger" and the surrounding world, allowing some privacy. The smooth rotation of the round platforms is achieved thanks to the electric motors beneath the floor of the installation.
"We have created a poetic abstraction of modern nomadism by bringing motion into harmony with its surroundings and rendering visible the kind of view you could get through a car window," commented Erwan Bouroullec on the QUIET MOTION project.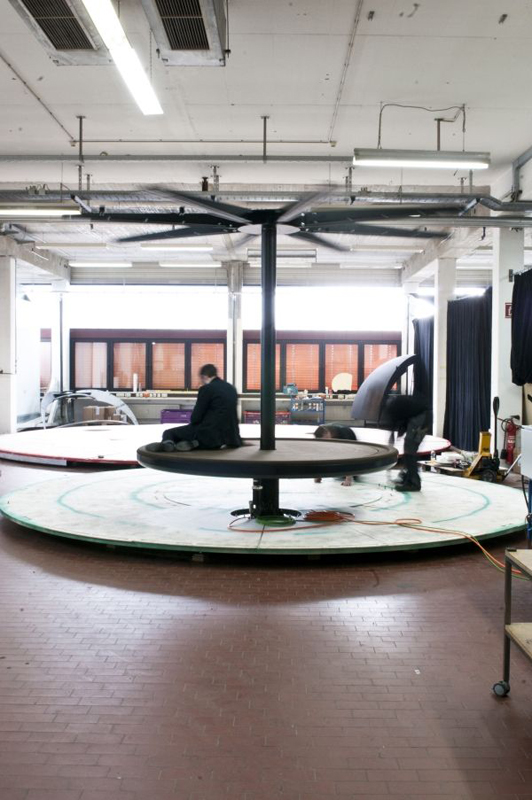 Photo: BMW's Quiet Motion—first test setup in Germany (click to enlarge), www.press.bmwgroup.com