To celebrate the launch of the Virgin Atlantic's first-ever domestic flight service, Little Red, Bacardi Global Travel Retail has released a limited-edition Dewar's blended Scotch whisky. The new special edition includes only 200 exclusive 50cl bottles that were distributed among the passengers of the inaugural flight of Little Red service to Edinburgh on April 8. The Little Red service will be offering trips between London, Edinburgh, Manchester, and Aberdeen.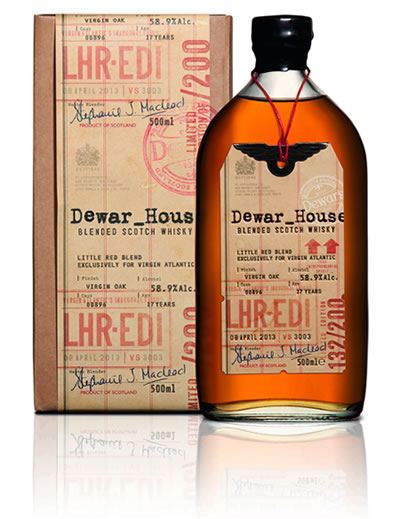 Photo: Dewar's limited-edition gift-pack celebrating Virgin Atlantic's Little Red service, www.moodiereport.com
The Dewar's House 17 Years Old edition has been released as a present to the travelers—each of the passengers onboard the first flight from London Heathrow to Edinburgh yesterday was presented with a limited-edition collector's bottle. The gift packaging and the bottle's label have been inspired by a baggage label design. It features black and red lettering, numbers, and red arrows—the background of the label and the box is reminiscent of a vintage paper and features the details of the inaugural flight. Each of the individually numbered bottles has been signed by Dewar's Master Blender Stephanie Macleod.
Passengers of the Little Red's debut flight to Edinburgh were welcomed on board by Virgin Atlantic Founder and President Sir Richard Branson himself. They were also treated to cocktails based on Dewar's blends, and the brands hosted a party for 400 people at The Caves in Edinburgh, serving Dewar's cocktails.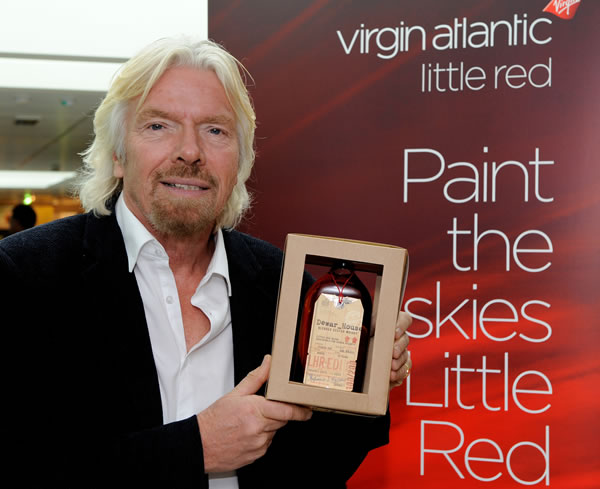 Photo: Sir Richard Branson with the limited edition Dewar's Little Red box, www.moodiereport.com
"Bringing a splash of red to the sky, Little Red service will offer four daily round-trips between London Heathrow and Manchester, six daily round-trips to Edinburgh and a further three daily round-trips to Aberdeen," says the company on its official website. The airplanes of the new service are designed in the traditional red and white palette and feature the flying red-haired girl, Maggie May, wearing a cloak with the Union Jack pattern. See more photos from the launch here.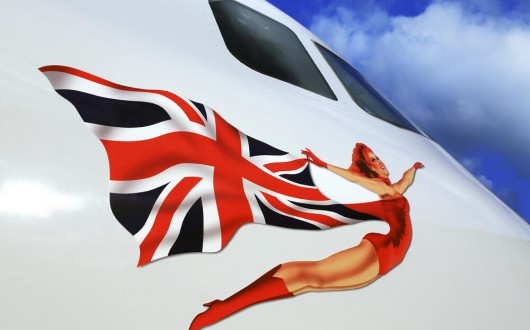 Photo: Maggie May on Little Red planes, www.virgin.com