Diet Coke has released a new commercial as part of its collaboration with Taylor Swift, who became the brand's ambassador earlier this year. The new 33-second commercial premiered nationally during yesterday's "American Idol" in the USA. The spot by Droga5 New York arrives one week after Coke's major rival, Pepsi, unveiled its spot "Mirror" for Pepsi Max starring its global brand ambassador Beyoncé.
The first Diet Coke's ad that features Mrs. Swift is entitled "Music that Moves." It was filmed at her hometown Nashville and features the country music diva, seven-time GRAMMY winner, composing lyrics for her latest single "22" and then singing it—her fans are also singing the new piece while driving a car, cooking and playing the guitar. The commercial also includes scenes of  Taylor sipping the soda from the can as wells from the iconic contour bottles, aluminum and glass ones. The spot echoes the brand's Stay Extraordinary manifesto, highlighting the moments of creativity that can be spotted anywhere and anytime.
In addition to the commercial, Diet Coke will launch print and digital ads fronted by Swift—they will arrive later this spring. The brand is also inviting fans to access Swift via social media as well as in-person during her worldwide RED Tour.
"Taylor is a true artist, deeply involved in the full creative process, from writing to production to release," commented Stuart Kronauge, general manager, Sparkling Beverages, Coca-Cola North America. "The 'Music That Moves' spot shows Taylor in her natural element—penning lyrics that one day will speak volumes to millions of fans the world over… all while sipping on a Diet Coke. The commercial serves as a peek behind the curtain at an extraordinary day in the life of a true American superstar."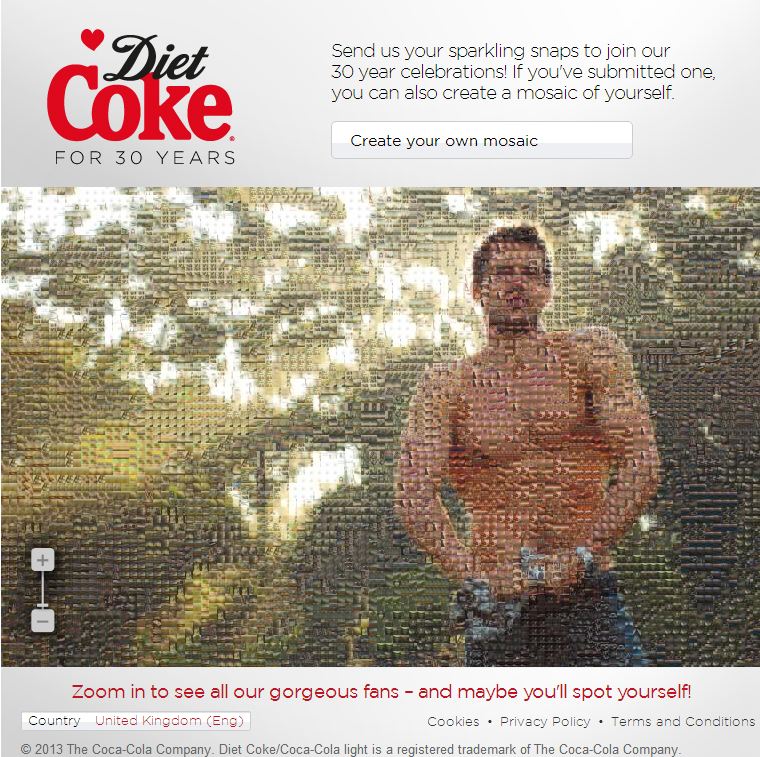 Pic. One of the Diet Coke's photographic Mosaics
Interestingly, for the UK and Ireland, where the brand has been proudly celebrating 30 years and where Taylor Swift is not so popular, Coca-Cola is pursuing the hunk theme to target the young female audience. Continuing the «photo booth» storyline, first featured in the TV ad starring Marc Jacobs, Diet Coke UK in partnership with Tesco has recently launched a new phase of the celebration entitled «Diet Coke Mosaic.» It includes an in-store experience in the form of the bespoke photo booth that has been traveling across 10 key Tesco stores since Wednesday, April 10th through April 21st.
Shoppers can take photos of themselves there, print them out or add to the Diet Coke Mosaic on the Facebook page. UK and Irish Coke fans can contribute to the large mosaic picture by uploading their photos on Facebook, Twitter or Instagram with a hashtag #DietCoke30. Moreover, UK shoppers can upload their photos on Tesco.com to get the chance to star on 24-packs which will be available exclusively in Tesco stores.