Diet Pepsi has commissioned interior designer Vern Yip, one of the faces of the HGTV home design channel, to develop a limited-edition design for the brand's mini can. The new offering will be introduced as part of the Diet Pepsi's ongoing "Love Every Sip" campaign, launched last year and fronted by actress Sofia Vergara.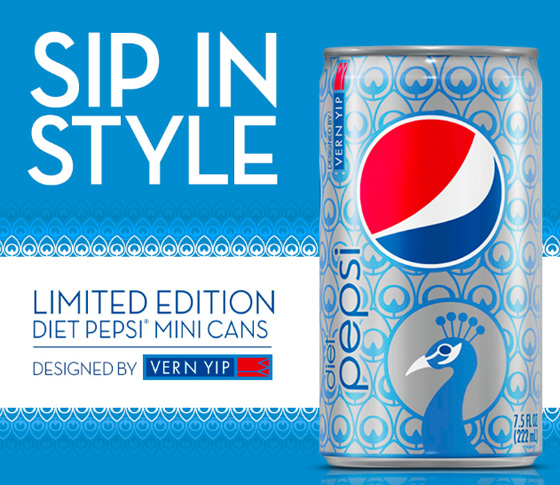 Pic: New Pepsi Limited Edition mini can, designed by Vern Yip
The new design features a trending peacock pattern, which is believed to be seen everywhere this spring. The new can has been developed in the brand's traditional color palette, dominated by grey and dusk blue that was featured in this spring's Pantone's spring fashion and color report. The design also incorporates a peacock's head in the bottom with the Pepsi's traditional round logo above it.
Photo: Diet Pepsi can's peacock design by Vern Yip, www.brandchannel.com
The brand has also launched cans with a heart-shaped logo (see it below) to highlight the playful romantic theme of the current campaign. Last year, Diet Pepsi collaborated with celebrated housewares designer Jonathan Adler, who created limited-edition red-blue-and-white straws for Target to be used for sipping Diet Pepsi. In early 2011, the brand introduced a sleeker, "skinnier" version of its can at New York's Fall 2011 Mercedes-Benz Fashion Week.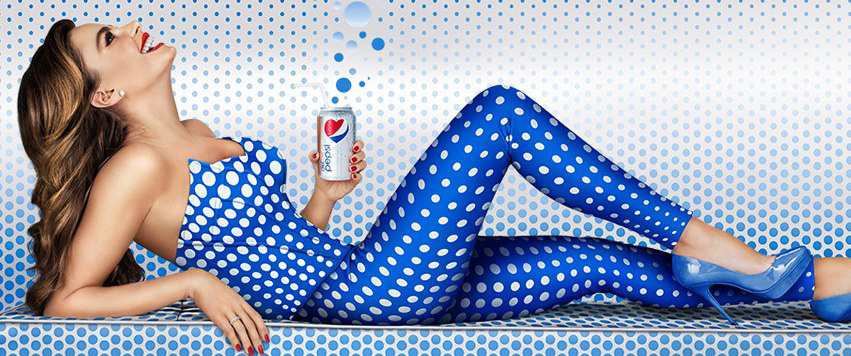 Photo: Sofia Vergara holding a Diet Pepsi can with the heart-shaped logo, www.facebook.com/dietpepsi