In August 2013, Michael Kors is set to launch its first-ever beauty collection in collaboration with Estèe Lauder Cosmetics.  The three new lines Sporty, Sexy and Glam will have their own voice and make a harmonious trio. The release will be supported by an advertising campaign featuring prints and a TV commercial starring fashion model Karmen Pedaru, shot by the world's celebrated photographer Mario Testino.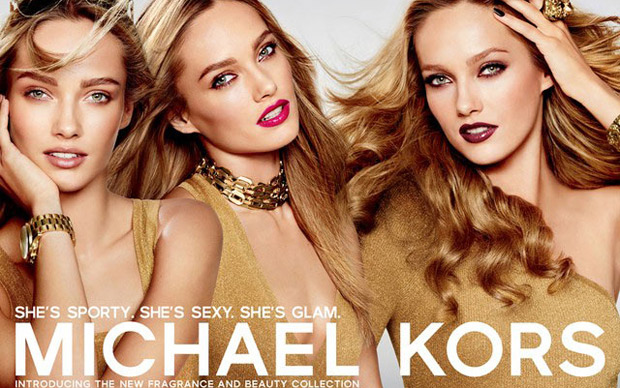 Photo: Print for Michael Kors's first make-up collection (click to enlarge), www.fashion.telegraph.co.uk
The new make-up line mirrors the brand's ethos and philosophy. "Sexy, sporty and glam—have always been the DNA of Michael Kors, and in a strange way, the Michael Kors women really is all three of those things—it's just that she feels more strongly about one of them at certain given times. So I asked myself, how can we express that both with color and with fragrance?" commented Mr. Kors.
Each of the collections will include two lipstick colors, two lip gloss colors, and two nail lacquers in the relating colors—nude taupe "Sporty," bold red "Sexy," and dark violet and plump "Glam." Michael Kors will also release a fragrance for each of the collections—Sporty Citrus, Sexy Amber and Glam Jasmine, adding new products to the brand's perfume range.
The fashion designer decided to include in the new beauty collection only the make-up essentials that can render a woman's mood, that's why it doesn't feature such products as mascara and foundation. The collections will be available in the U.S. for one year exclusively at Macy's and internationally at the Michael Kors stores. The brand will also extend its signature "bronze glow" touch—it is set to launch three bronzers, a self tanner, an after-sun gelee, an after-sun lip balm, as well as a liquid shimmer and a body crème.
"It's wardrobing in the beauty world the way I do in clothing and accessories," commented Kors to WWD, describing the new collection.