Mondelēz International is using the power of fresh talents and innovative ideas in the mobile area to boost the popularity of its much-loved confectionery brands. As part of its ongoing Mobile Futures program, the company is launching seven mobile pilots, developed earlier in collaborative duos of nine U.S. start-ups and the company's brands, in order to drive consumer engagement on mobile platforms. The match-ups were created and activated in early 2013 during the first 90-day phase of the Mobile Futures program, which now enters the second 90-day incubating phase. The company is set to introduce two more new pilots in May.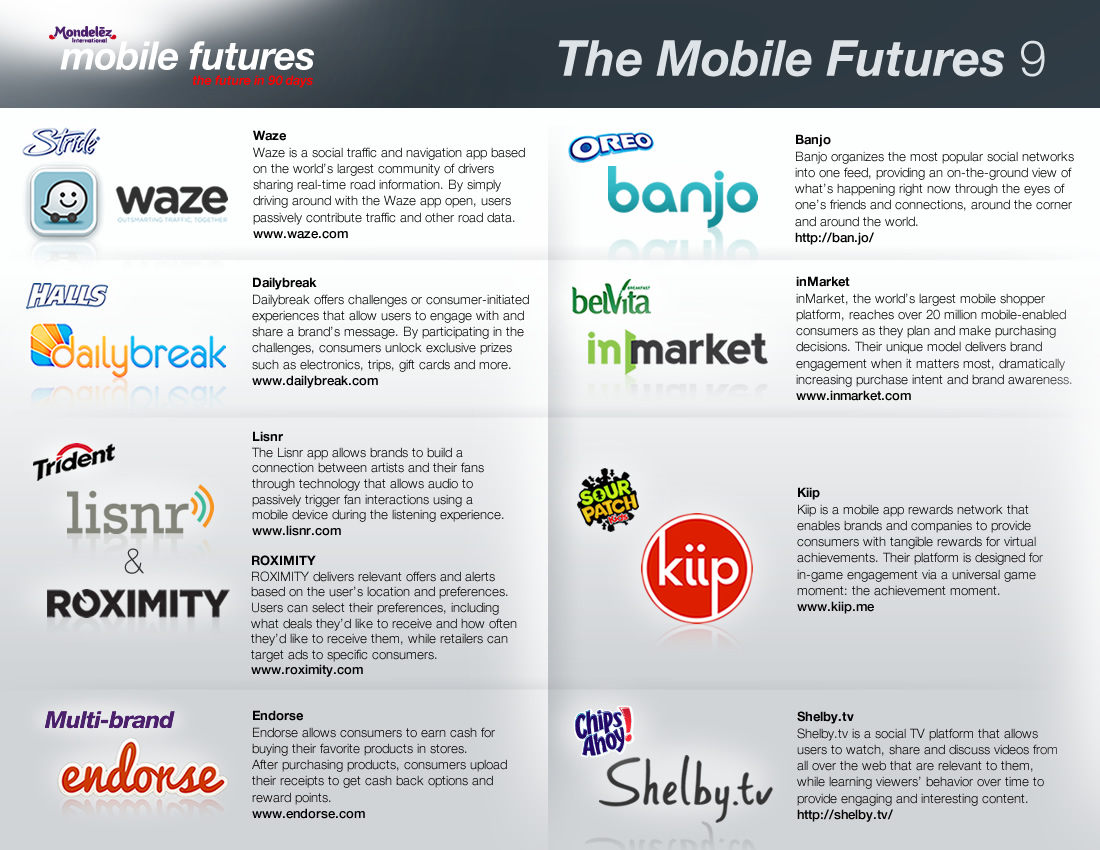 Photo: Nine start-ups and Mondelēz International's brands participating in the Mobile Futures project (click to enlarge), www.mobilefutures.com
The initiative is looking at the latest mobile technologies, such as mobile-at-retail, social TV and/or SoLoMo (social/location/mobile). The food-and-tech duos include Trident & Lisnr, belVita & inMarket, Oreo & banjo, Halls & Dailybreak, and more. The other Mondelez brands, which became part of the experiment, include Stride, Chips Ahoy! and Sour Patch Kids. In addition, multiple brands are enhancing their communication with shoppers using the Endorse application that lets earn cash back.
The winning start-ups were picked up from 22 shortlisted finalists, which in their turn had been previously selected from the applications submitted during the open call in the autumn of 2012.
The quick recap on the upcoming collaborations can be reviewed on the dedicated website with detailed information on the project, its participants and goals. There are just some of the highlights of the mobile pilots: HALLS has partnered with Dailybreak for a custom year-long gaming challenge program that shows the range of HALLS products and includes an in-store element. Trident has collaborated with two startups at a time—it uses Roximity's place-based proximity notification technology in order to drive impulse purchases of the chewing gum product, and it also partners with Lisnr to provide consumers with exclusive music content via both TV and social media channels.
Now, the third phase of the program launches—it will see brand teams and their start-up partners working hard together to develop solutions for broader business challenges. Mondelēz International can select the best ideas originated during this process for incubation by the teams during the next three months. After 90 days, the most impressive solutions will be presented to angel investors and venture capitalists, who may want to provide them with seed funding.
The Mobile Futures program involves a range of experts, including B. Bonin Bough, VP of Global Media & Consumer Engagement at Mondelēz International. Previously, he was Global Director of Digital and Social Media at PepsiCo, which launched its own innovation incubator program, PepsiCo 10.