Mountain Dew takes its relationship with the modern youth culture to the next level by launching a new online platform Green Label, which encompasses the spirit and philosophy of the three brand's ongoing programs Green Label Sound, Green Label Art and Green Label Exclusives. The  lifestyle hub, developed and run in partnership with Complex Media, is designed to cover the latest news and emerging trends across sound, action, art, style, and places.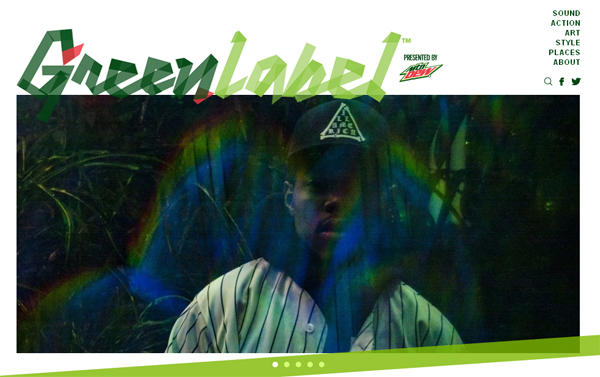 Pic.: A screenshot from the www.green-label.com website
The site will feature news, interviews and reviews written by the team of in-house editors and writers along with the stories provided by established and up-and-coming voices. Additionally, Green Label will aggregate headlines from the partner websites from the Complex Media network, such as SneakerNews, HighSnobiety,  FirstWeFeast and others. The site for "derelict skaters, music nerds, art doodlers, sneakerheads, and all manner of genetically-modified, cross-pollinated versions of each," as the brand describes its target audience, comes as part of Complex Media's male-targeted pool of sites, which has more than 65 million unique monthly users.
"The Mountain Dew brand is built upon a deep understanding and ability to authentically resonate with youth culture. When our legacy Green Label programs were created, we were among the first to give promising musicians and artists an opportunity to express themselves—today, with the new Green Label destination, we're expanding to a new platform for expression and engagement," commented Greg Lyons, Vice President of Marketing, Mountain Dew.