Old Spice is launching a new product in the USA—a line of three scented soap bars that come in the most popular scents—Fiji, Pure Sport and Swagger. Together with a recent shampoo, a collaborative product from Old Spice and Head&Shoulders, this is a new addition to the brand's portfolio.
Old Spice supports the launch of the old-fashioned product with a tribute to the advertising style of 80s and 90s, that can be seen in the Mr. Wolfdog promotion. "The Bar Soap You've Been Smelling For" campaign, developed by Wieden+Kennedy, includes a series of TV commercials as well as cinema and online promotion. So far, the brand has released two spots, "Shower" (with two versions of 30 and 15 seconds) and "Watermelon" (15 seconds), with the third one arriving in summer. The spots, directed by Steve Rogers, demonstrate the manliest way of taking shower with the proper scented bar soap and also tells about the after-shower experience with "freshness following you all through the day."
In the first spot, "Shower" for Pure Sport, a surgeon is experiencing the precious shower moments (with actual water and foam) wherever he is—in a car, at work and at a restaurant with a lady. The second one, "Watermelon" for Fiji, has a surrealistic touch—after taking a shower with the soap bar, the hunky actor cuts his basketball in two and finds a bar of soap there. The spots are set to "dedicated" jingles, created specifically for each commercial and detail everything that happens on the screen in a very light-hearted and comical fashion.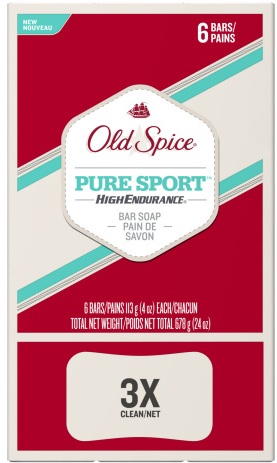 Photo: The packaging of Old Spice Pure Sport soap

The soap scents are introduced with a humorous twist as well. For instance, Swagger Bar Soap is presented with the following description: "Bathe yourself in power. We're not saying this bar of soap will make guys a confident millionaire jetfighter, but we are insinuating it." The scented soaps, which arrive in store later this month, will be available in 6-packs at$ 3.99 and 2-packs at $1.79.