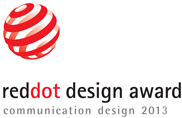 The "red dot award: communication design" is one of the largest creative awards that has been setting the pace of the industry for over 20 past years. This year 's focus is communication design, so the competition rolls out across  21 various categories, including the following: Corporate Design & Identity, Brand Design & Identity, Annual Reports, Print Advertising, Packaging Design, Editorial & Corporate Publishing, Magazines & Daily Press, Typography, Illustrations, Posters, Event Design, Information Design & Public Space, Online Communication, Online Advertising, Game Design, Interface Design, TV &Film & Cinema & Animation, Corporate Films, Sound Design and Sound Branding, Mobile & Apps, Social Media.
Red dot, «Best of the best», «Grand prix», «Junior prize», «Client of the year», «Agency of the year»—these are the levels of awards for different types of participants.
Submission periods vary:
Regular: 16 April—7 May 2013  (210 €)
Latecomers: 8 May—24 May 2013 (260 €).
The award ceremony, The Designer's Night, will take place on October 18, 2013 in Berlin at Konzerthaus Berlin. The winning works will be showcased during the "Design on stage" exhibition on October 19-20, 2013.