Now that the world strives for fresher, more specific approaches to address current issues, newly-born brands sometimes do a way better than recognized ones. In the era of start-ups, smart instant solutions turn to be much more effective—it's explained by their nature, since most often they are incepted as a response to a problem. Inspired by the latest report entitled "Clean Slate Brands" by the international consumer trends firm trendwatching.com, this article focuses on the theme of so-called "challenger brands" that seem to be growing even more powerful and attention-grabbing than leading brands. What is the reality of the "fresh brands" in the market that has been ruled for years by established big businesses? Why do these new brands emerge? What can older brands learn from the newcomers? Find some suggestion below.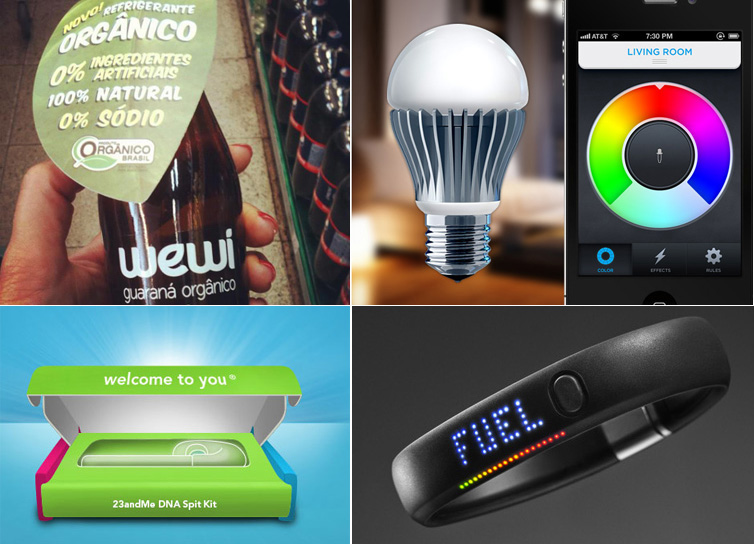 Photo: the Wewi soda (upper left), the LIFX light bulb (upper right), 23andMe DNA test (lower left), Nike FuelBand (lower right), click to enlarge
Why Do Challenger Brands Gain More Trust than Established Ones?
In January 2013, Havas reported that in the developed countries the level of trust towards big companies has gone extremely low—just 28% trust big business in the UK, 30% in Japan, 32% in Australia, 33% in the US and 34% in Canada. It means that established, highly-recognizable symbols are already not as trusted (read: influencing) as before. A vast majority of people don't believe old labels can improve their lives in our new environment. This paves the way for the "clean slate brands."
Consumers want fresh, unconventional decisions, they expect brands to offer them products that would be genuinely tailored to their current needs and fully meet their expectations—they look for a 100% match, 99% is already not enough. Due to the globalization and borderless online communication, virtually anyone can offer their own solutions that beat out the existing ones, in all spheres of life. Why to wait for old brands to seize the new ever-changing ground and produce "reconstructed and enhanced" yesterday's products? Today, it's much easier to use the recently created problem-solver that reflects the zeitgeist, with all the meaningful values such as eco-conscious ethical approach, social commitments, innovation at the core, and more.
Consumers eagerly adopt new brands and services. Now, they don't need the brand to have a history and be deeply rooted in the market—they want it as a key to open some particular door quickly and smoothly. Another factor is positive experience—consumers are already used to the fact that newer products offer smarter "grab-and-do" approaches.
What Makes Consumers Choose Fresh Brands?
New independent brands are usually more "publicly generated" than respectable old brands. It's a common practice to invite people to fundraise (primarily, through Kickstarter and other public fund-collecting schemes), asking consumers to vote for further developments of the brand, etc. This makes such brands transparent, which also adds to their positive image. It puts consumers into the very center of the business model and makes them feel deeply connected to the created product. People love it, and want to continue their relationship with such brands. Respectable companies also invite broader audience to collaborate on their new varieties or experiences (like Mnt Dew, Heineken, McDonald's and many more), but it is just an attempt to get closer to public, while for fresh brands it's an integral part of their existence (at least, at the initial stage).
Another important reason why people turn to challenger brands is that they don't have any negative episodes behind. They are clean, literally—just solutions, no extra things attached. It has been traditionally believed, that a brand's heritage helps it gain better recognition and a wider reach, resulting in driving more sales. Since "born clean brands" don't really have a history, it might cause some problems with distribution. And here, word-of-mouth marketing, primarily through online platforms, comes as the most powerful promotional tool. As reported by Nielsen (April, 2012), 92% (vs. 74% in 2007) respondents trust recommendations from friends and family above all other marketing forms, and online consumer reviews is the second most trusted source of information, 70% vs. 55% in 2008. So, challenger brands can just be liked by a small group of people who actively communicate online— and it's in the bag.
What Types of Fresh Brands Do People Need?
Most new brands emerge as a response to the current problem, and it's hard to say for sure what people will need in a year or even a month. Still, we can make some predictions. In May 2012, Corporate Executive Board stated that brands that simplify, clarify and speed up consumer's decision-making are 115% more likely to be recommended. So, you win when you help people get rid of extra tension selecting a product, and you also succeed when you simplify customer's life on the whole.
Most clean slate brands are tech-driven, this is explained by people's lust for constant innovation. The World Economic Forum Global Agenda Council created a list of top 10 emerging technologies for the year of 2013, which includes organic electronics, remote sensing, enhanced nutrition to drive health at the molecular level and CO2 conversion to name a few. These are the areas, which are likely to give us more new products in the coming months.
Those who want to see what people are eagerly responding to now, can visit the Kickstarter platform and look at the list of the most funded start-ups. These include LIFX, a WiFi enabled, multi-color, energy efficient LED light bulb that can be controlled with iPhone or Android ($1,314,542 pledged of $100,000 goal); FORM 1, an affordable, high-resolution 3D printer ($2,94, 885 pledged of $100,000); Smart Herb Garden to grow herbs at home (over $486,600 and counting of $75,000) and many more.
Here are some of the already released products that mirror the above-mentioned trends. Launched in September 2012, Wewi, Brazil's first ever organic soda produced from 100% organic Amazonian guarana, organic sugar and carbonated water with "no sodium, no preservatives, no artificial ingredients." Personal genetics DNA testing company 23andMe founded by Anne Wojcicki, wife of Google co-founder Sergey Brin, offers one of the most impressive futuristic product of today. It enables users to take an insight into the sacred information within the body—a "spit kit" priced $99 allows to learn valuable ancestry and health information. In December 2012, the company announced that it had raised $50 million and set to drive its genotyping to 1 million customers (currently, it has the client base of 180,000 people).
So, people want healthier products, smarter technologies, eco-friendlier decisions to old and new problems—we strive to be better, kinder, greener, and new brands are expected to help us with it.
How Can Big Brands Tap into the Clean Slate Brands' Trend?
Even with the market full of fresh brands, consumers will continue to buy from older ones. But there will be a great change in what exactly brands will sell. Today, when competition is moving onto a new level, old brands have to work hard to look younger. As an anti-ageing injection, some established businesses have lately tapped start-ups for developing products that better reflect the current needs of consumers. Mondelēz, PepsiCo, Nike, Samsung and many more are teaming up with rising tech stars to better integrate their products into the canvas of the new life. Collaborating with crowdfunding platforms is also a smart practice.
It's time to learn from youngsters, to infuse business models with new spirit by copying the behavior of clean slate brands. Here are at least three things big brands can do to look and be younger:
1. Getting as transparent as possible. Let consumes take part in the development of your brand.
2. Adopting socially and environmentally conscious commitments and demonstrating real achievements in the area through communication with customers.
3. Developing innovative products from scratch. Conceiving game-changing solutions that later create a completely new niche ( Nike's FuelBand, BMWi cars and more).