The FA Cup sponsor Budweiser is supporting citizen journalism by partnering with two amateur photographers who have made the official photo reports shot on smartphones along with professional sport photojournalists. Prior to the match, the brand has selected the two contributors, s0-called 'Phoneographers',—18-year-old Leeds-based student Oliver Nielsen, who also runs a popular football Twitter feed @awaydays_, and Ope Odueyungbo, a 21-year-old London-based photography student who runs an Instagram account greatarsenal. The two young football and photography fans have become the first official social reporters for the semi-finals who've been sharing their pictures from the yesterday's match on Twitter under the hashtag #tothedream.
The brand encourages all other English football fans out there to share their pictures from the past match with @BudweiserUK using the same hashtag through April 26.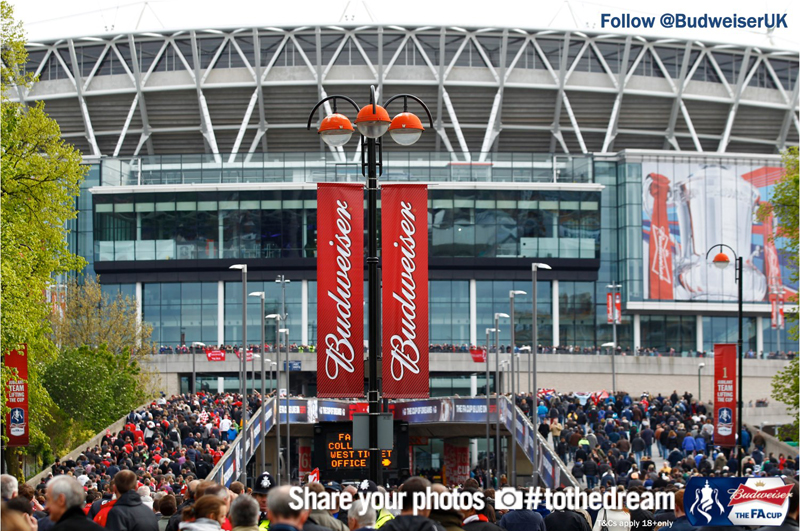 Photo: Budweiser invited fans to share their photos taken during FA Cup Semi Final weekend (click to enlarge), www.facebook.com/BudweiserUK
The most impressive images will appear on the Budweiser's Twitter feed as well as in a two-minute TV commercial, which will tell the story of the 2012/13 FA Cup season from a fan's perspective. The ad is to debut during the final match on May 11, 2013.
"We're thrilled to be bringing these avid football and photography fans closer to the game they love in a way they can share with other fans in stadium and at home. It reflects the changing way people get their football updates and our desire to bring the magic of The FA Cup even closer to the fans, which social media certainly has the potential to do," commented Iain Newell, Budweiser's UK Marketing Director.
The commitment to bring "the English football fans closer to the game" was announced by Budweiser UK back in 2010 as part of the World Cup 2010 campaign, when the brand launched the new online reality-show Bud House. As a long-time sponsor of The FA Cup and English football, since 2012 the brand has been proving financial support to grassroots football across the country, giving out grants of  £50,000 to the non-league clubs.