While Louis Vuitton's promotional video by Love Magazine, starring models as prostitutes, is rising a wave of criticism among female rights activists, the latest activity from British fashion designer Vivienne Westwood contributes to the positive change in the women's world. The fashion label has raised awareness about domestic violence against women using the window display at its flagship store in Milan. The displays featured mannequins with bruises all over their white plastic bodies to inspire female victims to break the silence.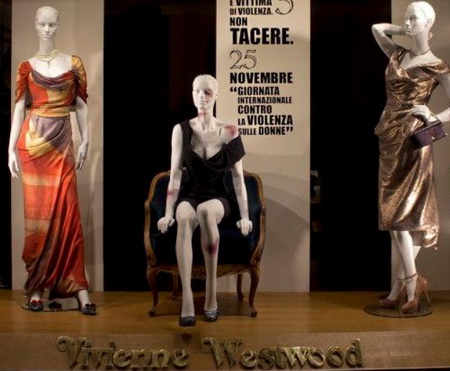 Photo: the window of Vivienne Westwood boutique in Milan, Facebook/abcmanichini
The project was developed by advertising agency Leo Burnett Milan. The shocking and thought-provoking shop windows were revealed in Milan from November 22-25, 2012 and set the major publications talking about the issue. The idea to develop the socially meaningful promotion as part of marketing campaign originated from the sad statistics that revealed that 1 in 3 women were victims of domestic violence in Italy. To highlight this fact, one in three mannequins got bruises all over "her" body. All plastic figures were taking glamorous poses and modeling latest items from the brand's latest collection.
Vivienne Westwood is also a nature protection activist. Recently, she has designed a special "Save the Arctic" heart shape design for Greenpeace as part of the "Save the Arctic" campaign. She is also encouraging the global audience to support the Climate Revolution movement, "an uprising" designed by her in late 2012.