To complement its two-year activity, BMW Guggenheim Lab has released a comprehensive guide across the most prominent urban trends, which have been explored and discussed during its three past stops in NYC, Berlin and Mumbai. The global lab, focused around the life in a big city, has published 100 Urban Trends: A Glossary of Ideas from the BMW Guggenheim Lab for NYC and Mumbai, following the release of the Berlin edition in 2012.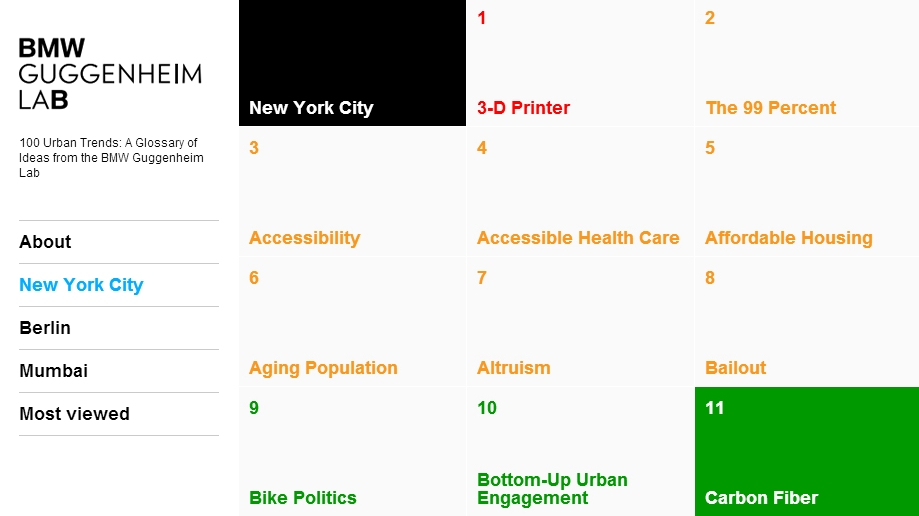 The resource gives an insight into the hot urban trends from the three stops the Lab has made to date. Each glossary contains 100 terms with contextualized definitions, which explain how people in the urban areas think, socialize, communicate, share, live and design. With such brief and sufficient descriptions of the  game-changing tendencies of the present, the interactive online glossary designed by Collective Assembly builds a vibrant picture of contemporary life in the urban world.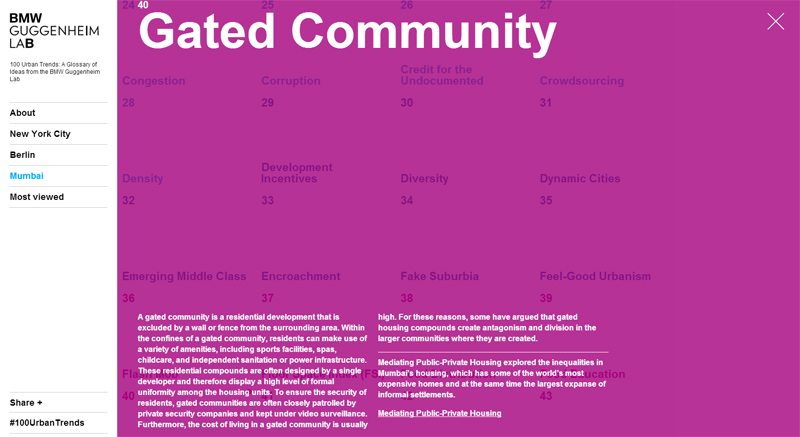 The three colorful glossaries are composed by Lab curator Maria Nicanor, curatorial assistants Amara Antilla and Stephanie Kwai, and the Lab's resident writer, Christine McLaren. Some of the featured trends are shared in the three editions since they proved relevant across all of the Lab's locations. The terms include Open Governance, Laser Cutter, Food Consumption (Berlin), Affordable Housing, Environmental Psychology, Occupy Wall Street (NYC), Emerging Middle Class, ME=WE, Split City (Mumbai) to name a few.
"The terms presented here reflect this type of urban exchange. They are new and old, classic and ephemerally fashionable. Among them are some of urbanism's 'usual suspects,' which interestingly, keep reappearing in the urban discourse of the early twenty-first century," reads the page 100 Urban Trends. "Each definition concludes with an example of a Lab program that illustrated the relevance and context of that term."
Users can explore the terms by the stop and also get the list of the most viewed entries. They can also use #100UrbanTrends hashtag in their tweets and explore the messages with this hashtag on the dedicated wall.