Helping keep consumers fit is one of the four major anti-obesity commitments outlined in Coca-Cola's wellbeing plan that was unveiled last week. Pursuing this goal, the beverage giant is launching out a new U.S. program "Get The Ball Rolling" focused on an array of summer sport activities and fun.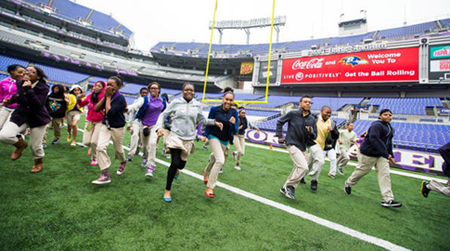 The new initiative comes as part of the "Coming Together" campaign that highlights the company's commitment to drive people to making healthier consumer choices, watching their weight and burning extra calories. The new initiative offers around 3 million of consumers across the USA an opportunity to add some physical activity and fun to their summer, tapping into the national movement that includes a series of sport-centric events.
Throughout the summer season, Coca-Cola will be giving out soccer balls at major events—the gear can be also distributed through MyCokeRewards.com. Lucky Coke fans will be able to win one Shine smartphone-based activity tracker by Misfit there—it will be distributed every hour while the sun is in the skies, from June 21 through September 2.
Coca-Cola is also asking the nation to support green zones—national, state and local parks,—which are a great place for outdoor activity. As part of the its annual America Is Your Park campaign launching in June, consumers will be nominating their favorite parks for recreation grants. To add even more joy to the program, the soft drinks giant will also arrange a series of dancing events "headlined" by Coca-Cola Happiness Trucks. The legendary vehicles, always associated with joy and fun, will visit towns across the country, inspiring the nation to "to get on their feet and move to the beat of some of the hottest music."
Get people moving is one of four major goals on the list of global commitments by Coca-Cola. The others include offering low- or no-calorie beverage options across all the markets where Coca-Cola is present, providing transparent nutrient information on the front side of the packaging, as well as reducing advertising to children under 12.
Currently, the company doesn't say if it is going to launch similar nationwide campaigns in other markets.