Following the release of its new viral spot "Baby and Me," in April, Evian has launched an app that lets consumers of any age create a very real picture of a «baby inside them». As users upload their photos, the app creates a portrait of an inner baby based on the most prominent features of the face and clothing.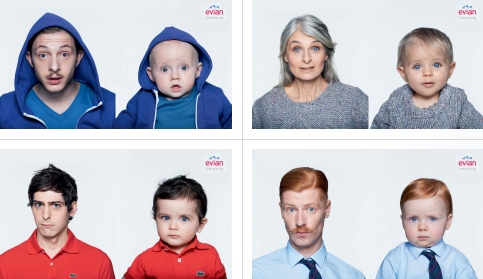 The Baby&Me application by BETC Digital and B-Reel, "peels off" the maturity, generating a picture of users' «baby spirit».  The app analyzes the picture (the face along with extra elements such as glasses) and delivers the baby-me portrait of you (to the left) and the baby (to the right) on the same piece.
Once the photo is ready, it can be adjusted by changing the skin tone and the type of eyes for more resemblance. The final picture can be shared with friends over the social-media platforms using the global hashtag #EVIANBABYANDME. The app is available on the web (on Facebook) as well as on Android and iOS-based devices, allowing to reveal inner-babies on virtually any computer, tablet or smartphone.
Since the release in late April, evian's "Baby and Me" ad has generated 51m+ views on YouTube and 100 million total views. It comes as part of the 2009 "Roller Babies" and 2011 "Baby Inside" viral spots that became overwhelmingly popular across the globe, supporting Evian's "Live Young" ethos. The brand's philosophy has been also spread through a series of fun-packed activities aimed to rediscover forgotten youth and merchandize including T-shirts with baby bodies.