Amazon has officially launched its new virtual currency, Amazon Coins, for Kindle Fire in the U.S.
To celebrate it, the e-commerce company has put 500 free coins, each valued at $0.01, to each of the deposit accounts of its tablet readers. The company says that it has given "tens of millions of dollars" in Amazon Coins to the consumers. The Coins can be used for purchasing apps, games and in-app items in the Amazon Appstore and on Kindle Fire.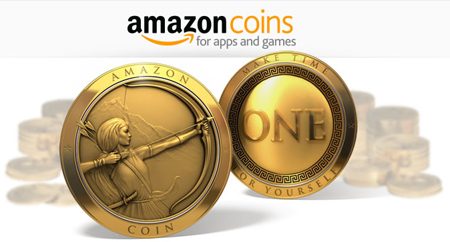 The new virtual currency was announced back in February as an "easy way for Kindle Fire customers to spend money on developers' apps in the Amazon Appstore," so it comes as another smart tool for driving traffic as well as increasing downloads and monetization. The company says that developers will get their standard 70% revenue share when users purchase their products using Amazon Coins from the Amazon Appstore.
Amazon's virtual money will also help consumers save some money making the app and game purchases. When buying the Coins in bulk, users will get discounts of up to 10%. Currently, the company doesn't share if it is going to introduce Coins to other product categories beyond apps and games. There's no word yet on if the service rolls out to other markets in the coming months.
"We will continue to add more ways to earn and spend Coins on a wider range of content and activities—today is Day One for Coins," commented Mike George, Vice President of Apps and Games at Amazon, on the launch.