MasterCard is listening to the beat of Sydney with a special Facebook application, Sydney Pulse, that visualizes all the social media conversations happening in the city right now. The tool is unveiled as part of the MasterCard Priceless Sydney program that offers an exclusive collection of experiences curated for the card holders.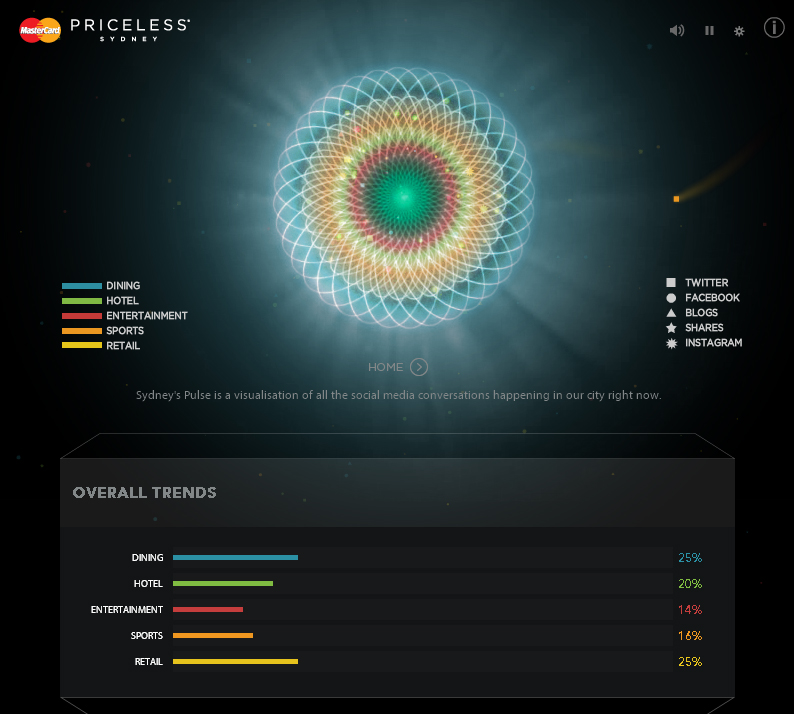 The application, developed by MercerBell, covers five major topics—Dining, Hotel, Entertainment, Sports, and Retail. The Pulse Sydney aggregates current data from Twitter, Facebook, blogs, shares, and Instagram, building up a diagram. Each topic has a related color—green goes for Hotel and yellow for Retail, etc, and is represented by a geometric figure—a square for Twitter and a round spot for Facebook to name a few.
Looking at the "breathing" multi-color sphere, one can see the elements like red squares (for tweets in Entertainment) or yellow stars (for Instagram posts in Retail) coming into the Pluse, changing its color in real time. The major color also helps determine the trending topic at the moment. Currently, in the overall list of trends, the Dining is the hottest topic (25%), so Sydney Pulse's major color component is blue now.
MasterCard lets users view the detailed statistics, discovering which of the platforms is most engaged in discussions, in which topics, at which time of the day.
The company also invites the audience to win prizes by contributing to the conversation. Each three weeks from April 9 through September 22, MasterCard Australia will give away a new Priceless Sydney prize, determined «by Sydney itself.» The prizes will be selected based on what's trending—"share your favorite Priceless Sydney experience [from the list on the page] to make it trend." To win the prize, one is to be a MasterCard holder and an Australian resident.
"We transformed the data from social media listening tools into The Pulse of Sydney, a living heart that beats to the rhythms of what Sydneysiders love," commented Carmela Soares, digital creative director at MercerBell. "The Pulse of Sydney is more than a campaign. It's a unique way of using data. We can analyse and adapt to trends, guide the campaign and inform the client's business model, and support some of the most sophisticated CRM programs ever."