Letters cause pain, literally—that's the message behind MINI's latest activation aiming to raise awareness about the threats of texting while driving. The auto brand collaborated with Publicis México to launch the "Words Can Hurt" campaign that included "injured" letter sculptures installed around Mexico City, prints, as well as a special application "'The Word Blocker" that turns off sound alerts on the users' phones when they are driving.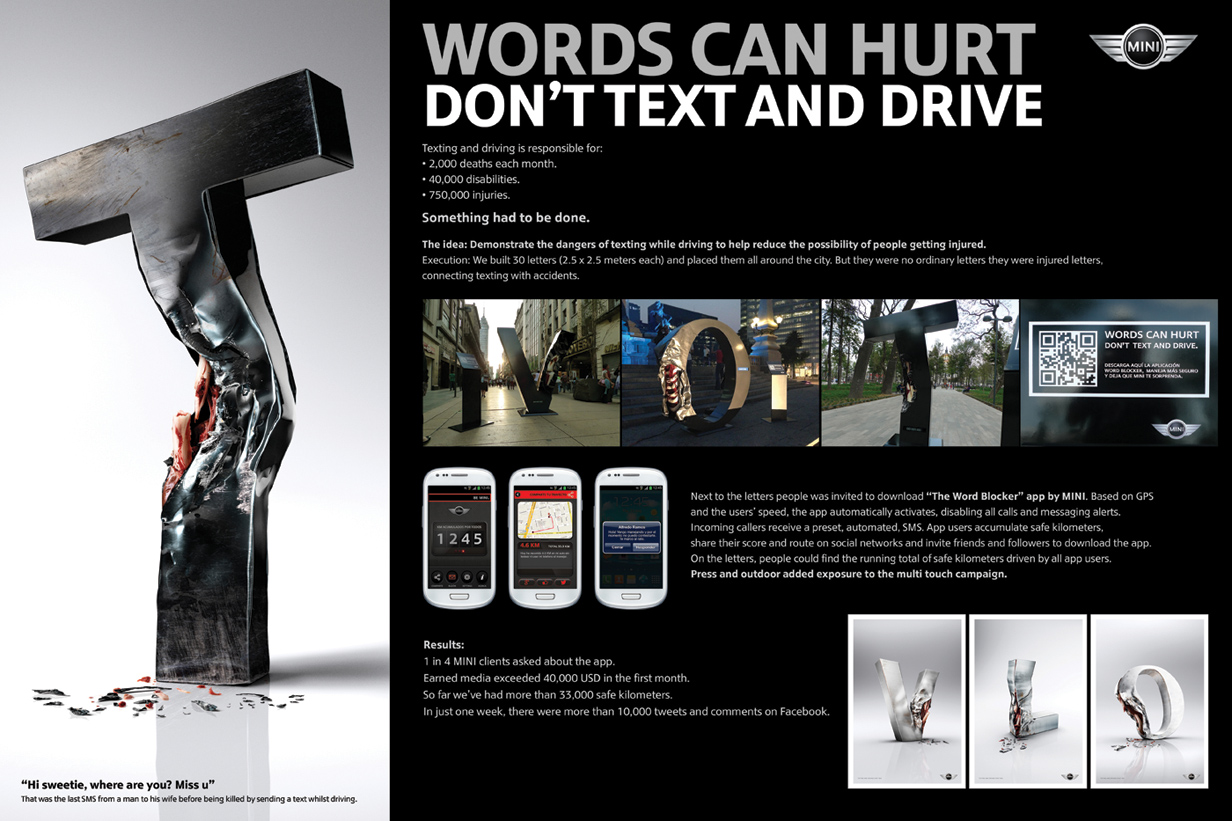 The project was inspired by the sad statistics that shows that texting while driving causes 2,000 deaths each months, 40,000 disabilities and 750,000 injuries. MINI used unconventional media—30 giant letters, 2.5 by 2.5 meters, designed with damages that symbolized crashed cars and shocking painted elements that resemble pieces of human flesh, blood and bones inside the object. The parallel is obvious—texting while driving causes tragedies.
MINI also released a free Android app, The Word Blocker, which automatically activates and disables users' calls and messaging sounds based on their driving speed and GPS data. The app sends an automated SMS to incoming callers, informing them that the recipient is driving. The app also has a "game" element—users can accumulate kilometers of the safe ride, share their scores with friends on social networks, and encourage them to tap into this social responsibility movement by getting the app. Next to the letters, there was a short pole featuring a QR code that explained the idea behind the app.
As a result of the campaign, earned media exceeded 40,000 USD in the first month, and 1 in 4 MINI clients asked about the application. The video below tells how the impressive sculptures were made and how the app works.
In 2011, MINI's parent BMW brand launched the Don't Text and Drive" campaign in the USA, warning about the danger of distracted driving. Another automaker, Volkswagen, has recently released a series of prints demonstrating that videos watched while driving blind you to what's ahead.