Nokia extends its educational set of services Nokia Life+ with a new project developed in partnership with UNESCO, British Council and the National Teachers Institute of Nigeria. The new mobile learning initiative is the English Teacher service that provides primary school teachers in Nigeria with an access to free professional development resources via their mobile phones.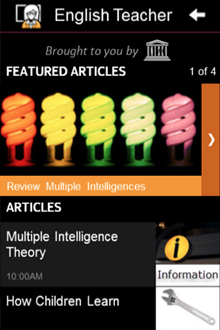 The new service features content developed by the British Council, which complies with the requirements of the primary grade English program of the country. Those teachers who subscribe to the new Nokia Life+ service receive daily messages and advice for free —still, the mobile operators will charges for their services.
"Our aim from the beginning was to develop a service that teachers working in difficult conditions and without a great deal of support could access quickly," said Steven Vosloo, the project coordinator for UNESCO. "Mobile technology is a promising avenue and, in some instances, the only option in terms of technology."
The service runs on the popular Nokia Life+ platform that features information on an array of topics related to wellbeing, health and entrepreneurship. In Nigeria, it also includes "Life Skills" and "Live Healthy" services as well, targeting the younger generation. The hub opens in the Nokia Xpress browser through a dedicated web app that works on a range of Nokia phones including the cheaper Nokia Asha smartphones. The program runs for 72 weeks for each users, no matter when they join it.
According to UNESCO's statement, over 90 percent of Nigerians have access to a mobile network, so the new platform can be easily accessed by the teaching staff.
A range of other global tech giants also contribute to the cause by launching educational programs and supporting teachers in related regions. For instance, Skype has rolled out its multi-year cross-boundary "Skype in the Classroom" initiative that currently unites over 57,000 teachers, and in 2012 Intel launched its 10×10 initiative to educate girls.