The recently unveiled 2013 BrandZ Top 100 report, conducted by Millward Brown Optimor, says that Apple continues to be the most valuable global brand, now worth $185bn, followed by two other technology giants, Google ($113bn) and IBM ($113bn).
The 78-page study demonstrates which brands rule in major markets and categories (Consumer&Retail, Food&Drink, Financial Institutions, Commodities, and Technology), analyzes their performance and reveals current trends.
The top 10 includes four brands from the Technology sector—the above mentioned brands plus Microsoft ($69bn), followed by AT&T ($75bn), China Mobile ($55bn), McDonald's ($90bn), Coca-Cola, ($78bn), Visa ($56bn), Marlboro, ($69bn) and Volkswagen ($8bn).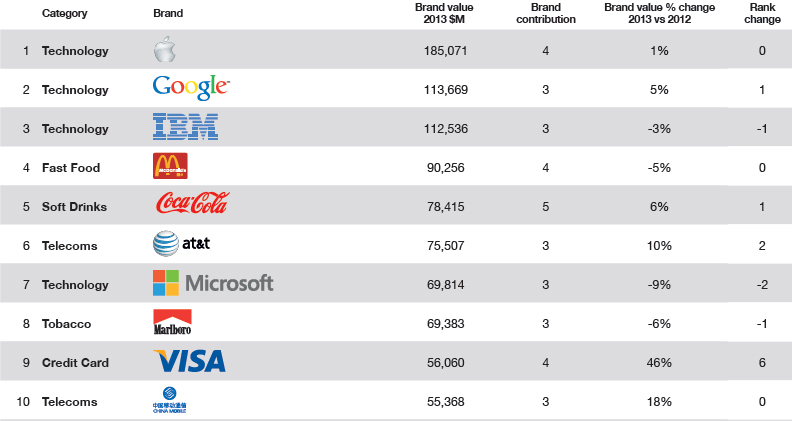 This year's three fastest growing brands—Prada, Brahma, and Zara—represent fashion, beer and apparel. Their success is driven by the new twist in their positioning  on the markets—luxury brands have become more accessible, collaborative and experiential, and started to use social-media channels to communicate with consumers on a personal level.
The research also scored brands according to their Brand Contribution, which measures a brand's ability to stand out and generate consumers' desire and loyalty. Brands were put on a scale of 1 to 5, with 5 being the most positive score—most brands on the top 15 list are representatives from the Luxury and Beer categories (Louis Vuitton, Chanel, Gucci and Aguila, Guinness, Skol). Soft Drinks is represented here by the legendary Coca-Cola brand, which is the only brand here form the Top 10 overall ranking.
As to the major categories, the best performers are Zara ($20bn) in Apparel, Toyota in Cars ($24bn), Louis Vuitton ($22bn) in Luxury, L'Oréal ($17bn) in Personal Care, Amazon ($45bn) in Retail, Bud Light ($10bn) in Beer, HSBC ($23bn) in Banks.
The 2013 BrandZ Top 100 research also focused on the three fast growing markets—Russia, China and India,—revealing some major shifts in their business landscapes from the brands perspective. For instance, the report states that Internet and travel grow in China, consumers spend more cautiously in India, and Russian brands improve in quality and communication.
The highlights from the cross-category trends are the following (to name a few): brands are becoming media; the individual is the expert; presence in fast-growing markets is imperative for global brands, and more.
Read the full report in PDF here.