PUMA is teaching teens to read the body language. The brand has launched a new interactive project, the PUMA Dance Dictionary, that allows to deliver a variety of common phrases through dance moves.
The platform offers a chance to create over 10,000 different sentences using the forms in the application and replacing the words with the suggested options. There are 11 basic sentences, in which words in italics can be replaced. Each sentence is encrypted using the "dancing code" and can be shared with friends on Twitter, Facebook and via e-mail.
For the pantomime-inspired project, PUMA has tapped celebrated LA-based choreographer Super Dave who collaborated with 25 world's best freestylers including King Charles, Mami, Jet Li, Pacman and Storyboard P. They have combined their unique styles to create vibrating moves, full of energy and spirit of experimentation. The moving substitutions of written or spoken words are highly recognizable—the dancers have managed to visualize not only simple words like "a cat," "a hot tub," "love," "scream," etc., but also more complicated definitions, such as "intensely" and "Mondays."
The promotion supports the launch of the PUMA Sync fragrances for him and her. To discover the top, heart and base notes of the scents, users are invited to drag the cursor on the "scent line" on the website of the new fragrance collection.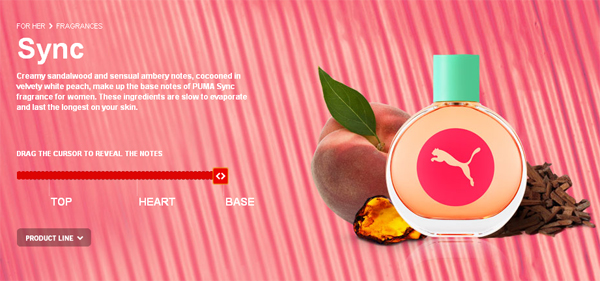 The concept of the body language was earlier used by another brand, Unilever's Dove in 2011, that encouraged the online audience to write shareable messages with letters formed of female bodies.