Virgin Atlantic is redesigning its basics, the legendary red uniform, with the help of fashion genius Vivienne Westwood. The acclaimed designer is creating a new look for the company's uniform across all areas, retaining the airline's visual style and integrating sustainability into the very heart of the project.
It's the fourth time the crew uniform has been changed since Virgin Atlantic's inception 30 years ago. From the very start, the company aims to bring glamour to flights, and uniform is one of the channels to communicate it. The current uniform is 13 years old, and other companies have already started to copy it, said Richard Branson, President of Virgin Atlantic,—so it was high time to work on the total overhaul.
The new uniform is combining 40s French couture cutting approaches as well as the Savile Row tailoring style. The female cabin crew uniform in the signature Virgin red includes a pencil skirt and a jacket with pleat elements—both of the pieces highlight the feminine silhouette. For the men in the onboard crew, Vivienne Westwood designed a dark wool three-piece suit with shadow details in grey —the outfit corresponds the traditional British style and also has a modern feel.
Sustainability has become the key element of the redesign. The uniform contains recycled materials and enhanced fabrics with a nano finish that extends durability of the garments, retaining its color and shape for a longer time. Along with the uniform, the designer has also developed recycled bags for the ground staff—these are made of recycled canvas, reused roadside banners, unused leather off-cuts, and recycled brass. "I design things to help people to hopefully express their personality. I am always trying to find fabrics that are more friendly to the environment—working with Virgin Atlantic they managed to research this and find more eco fabrics," commented Vivienne Westwood.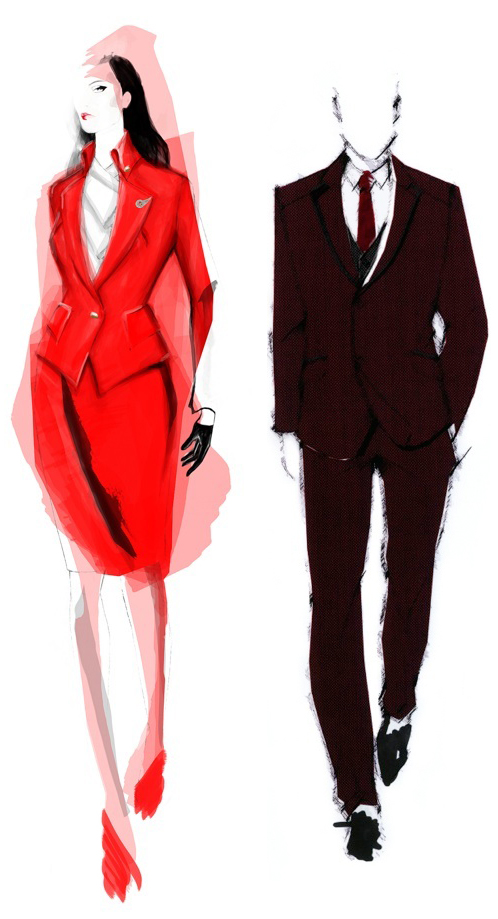 Over 7,500 Virgin Airlines employees will wear the new uniform— including cabin crew, pilots, the Clubhouse staff and Virgin Holidays people. The staff  participated in the design process and tested the uniform. The final version of the uniform launches in 2014. However, Virgin Atlantic intends to test the new fashionable suits on board and on the ground as early as in July 2013.