To celebrate its 40th anniversary in France, WWF (The World Wide Fund for Nature) has launched an imaginative project revolving around the use of fur. Marcel and Publicis Argentina developed a campaign, World Wonder Fur, featuring three "certified 100% imaginary" animals that give away their fur in a totally non-violent way. The initiative includes a scroll-down website, prints, two faux nature documentary spots directed by Brent Harris, and a collection of real clothing and accessories «made of» the fur of the imaginative «world's new species.»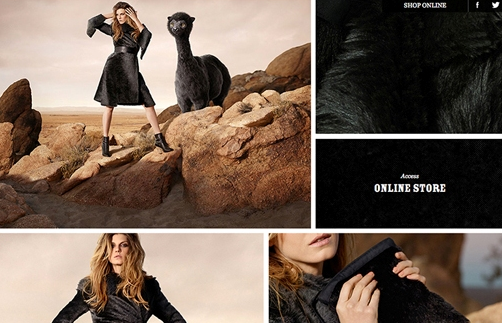 Pic.: A screenshot from the Wonder World Fur website, www.wonderworldfur.fr (click to enlarge)
The online destination, which became FWA's "site of the day" on April 4, features the stories of the surrealistic animals and also unveils the full line-up of the "imaginative fur" items. The narrative focuses on three creatures, Dolyphan, Bamboseal and Bofaloon, that shed their fur as a reaction to what's going on around and within them. The site features profiles of the creatures and also invites users to listen to the different voices of the beasts.
Each of the creatures gives its fur without any drop of blood. For instance, the shy and profoundly sensitive Dolyphan that lives "in the deepest recesses of the world's most remote forest" casts off its fur when it gets frightened by simple things like wild potatoes, and the elusive Bamboseal that lives in the cold but beautiful parts of the world loses the fur when it sneezes. WWF posted videos about these two animals to provide the audience with an insight into the creatures' life. Unlike the two animals above, the Bufaloon doesn't have a video story. The site informs that this beast, residing "in the mountains overlooking the beautiful valley of Pasadena, California," is a hermaphrodite camel with abundant fur. Bufaloons eat thistles and thorny, which regularly cause a "deflation" in proportion to their blanks, and this leads to immediate fur loss.
This "shed-off fur" is used in the WWF collection designed by Bouddica, "a collective of designers London at odds with 'brands.'" The clothing and accessories, modeled by Angela Lindvall, can be seen on the site—the pieces are real, and they can be purchased online, with all the proceeds going to WWF. The prices for a jacket, mittens, iPad case, scarf and more are ranging from $30 to $300, depending on the item. The site says that the items feature the "peace silk" linings and mohair from South Africa, and it also states that 95% of materials are transported by road or boat, and the labels are made from recycled polyester.
The spots, which were filmed in the Western Cape of South Africa, use 3D animation for creating the realistic animals. The videos come along with a series of prints shot by Mark Seliger.
Watch the video about the Bamboseal animal below: