Drawing a parallel with its name and ethos of high standards, Russian Standard Vodka is launching a summer competition for aspiring entrepreneurs in the U.S. with a chance to win a small but nice cash prize of $10,000—something a vodka brand is rarely expected to do. 
The brand, which is supposed to bring fun, joy, relax and make you forget about business and aspirations, calls to focus on what's really important— pursuing the dream of being whatever you want in life.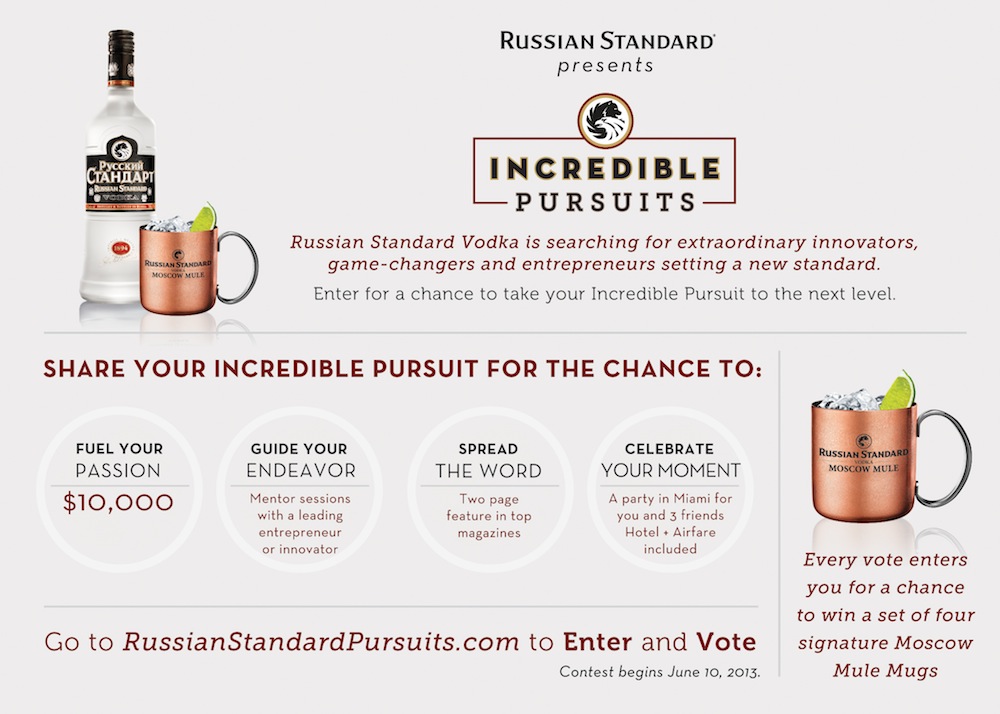 Business beginners, who are residents of the USA of legal age, are invited to a promotional website «Incredible Pursuits,» where they can create a profile and submit their business idea or a dream (or either a description of an ongoing project that needs little more funding to succeed further).Then their friends and fellow users can vote for the best «pursuit»—the winner takes it all: a cash grant of $10,000, a mentor session with a leading entrepreneur or innovator, a two-page feature in top business magazines, and (probably, the most rewarding part) an all-expenses paid party in Miami for 4 people.
The contest and initial voting began with a massive social-media push on June 10, 2013 and will last through August 9, 2013. Voting will account for one forth of the overall score as the entrants will also be judged by Russian Standard on Passion, Perseverance, and Ingenuity. Since August 19 through September 13 the audience as well as the brand's panel of judges will select from five semi-finalists the final winner, whose name will be announced on October 1, 2013.
Leonid Yangarber, CEO of Russian Standard Vodka, commented that the «Incredible Pursuits» campaign in the U.S. «is in the entrepreneurial spirit of the founder of Russian Standard Corporation», Roustam Tariko, who has led the company to become the 2nd largest vodka producer in the world as of June 2013, with over 34mn 9L cases of products sold annually.
Russian Standard Corporation is a privately-owned company with headquarters in Moscow, Russia, whose main business is the vodka and fine spirits production, import and distribution. The corporation also runs Russian Stardard Bank, one of the largest consumer finance institutions in Russia, and is involved in charitable activity through the Russian Standard Foundation that helps underprivileged children reach their full potential through grants and education.