Expressions of premiumisation are evolving and brands need to premiumise in the right way.
From the introduction of brands such as Tesco Finest in the 90's, to Grey Goose and the race to create the most superpremium vodka, through to today's war of waters, premiumisation is probably now more prolific and more desirable than ever before. Brands are continually looking for new ways to add value. And with forward-facing brands such as Grey Goose  continuing to shift the premiumisation stakes—using a new campaign ('Iconoclasts of Taste') rather than product innovation to reassert its premium status—the question of what is premiumisation is ever more prescient and complex.
As we start to work with more International markets. we are seeing that increasingly premiumisation is different to everyone, everywhere. It can be category specific with, for example, rapid wealth creation in emerging markets bringing about new sources of demand for products like upmarket spirits.  But it is often subject to context and location and how developed—or not—the territory may already be. It is no longer a question of whether we need to design different offers for different territories but understanding competitors—and above all culture—to decipher the semantics and mood of what premium really means for a particular territory and audience.
But essentially premiumisation is about establishing quality and specialness. If we look at it from the point of view of the iconic brand, then surely they have already established this positioning? Therefore, it is probably fair to say that premiumisation is the domain of the mass market brand as they look for a share of this quality status. And there is an opportunity there for the taking. Even in these tough economic times, when value may dictate many purchases, we have continued to seek lesser or inexpensive ways to experience luxury and specialness. And this has created a new niche – and a 'mass' desire — for 'premiumised' products. Premiumisation has made the impossible dream possible. But (and leaving aside territory and culture) expressions of premiumisation are evolving and brands need to premiumise in the right way.
For years, premiumisation had an established handwriting—again think Tesco Finest and how it succinctly used luxury's visual language in a way which continues to be emulated today by its competitors as shorthand for a higher quality experience. But we have also now moved to a more  individual rhetoric spanning the range from brand and designer collaboration to authenticity; with many more expressions in between.
However, one of the most interesting is where a more disruptive approach is maybe leading—or indeed narrowing—the field for premium and luxury overall.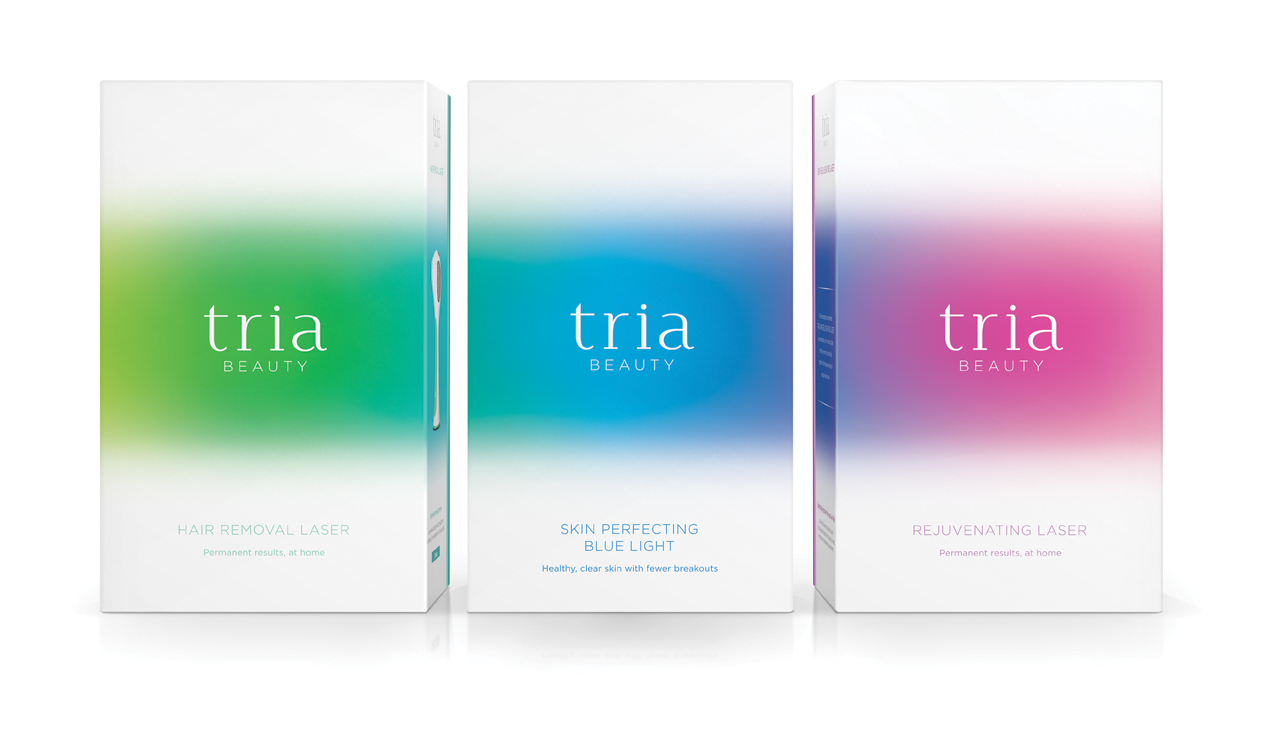 Tria Beauty is an excellent example of this. A highly premium laser hair removal and skincare company, Tria has translated the costly and labour intensive spa laser treatments into an easy-to-use at home device. A sophisticated light spectrum representing the beauty of light technology sets this brand apart and takes it from a technology offer to one that represents premium beauty. The redesign for the brand has revolutionized the category and allows the brand to dominate the shelves of retailers like Bloomingdales and Saks Fifth Avenue. Tria has successfully met the challenge of moving an offer based in technology into the realm of a sensual and captivating beauty experience.
For many brands premiumisation has become an increasingly complex issue now that there are so may new and different ways and expressions to premiumise and add perceived value. And this is the crux. It's not about just understanding what is premiumisation. But what it really means for them. It's about adding value in the right way—creating value through desire but not valuing themselves out of their own market. And this is where Tria has succeeded—using design and creativity to drive difference and create a new future definition and space that is more than just a price point or copycat offer.
Luxury no longer follows strict category rules or cues and instead leads on imagination and originality to assert its status. And those looking to master premiumisation need to copy the luxury approach—returning to core values and quintessential beliefs to create ever more unique and individual expressions.
Premiumisation needs to come from the heart of the brand and be reflected in its behaviour—it's about staying true to who it is, building on what makes it special and finding the most appropriate ways to heighten that specialness.
Premiumisation needs to establish difference—your difference—but at a price that can be afforded.
About the Author

Darren Foley, Managing Director at Pearlfisher, London, joined the company in 2002 as Realisation Director, inventing the concept of realisation and advocating a design process in which our technical and creative teams work in harmony from the beginning. He has worked in the design industry for close to 25 years, starting out as a junior production artist, and amassing an unparalleled depth of knowledge for the discipline.