A couple of weeks ago Elmwood held its first Hoo-ha! It's our new members-only event where FMCG brands and retailers get together to creatively come up with their next big innovative ideas, using design. Custom-designed to poke, stoke and provoke, we took 35 top-notch FMCG and retail clients, as well as entrepreneurial guest speakers and global Elmwood people, on a 48-hour ride of non-stop stimulation and freewheeling observation.
A number of creative gems emerged during the two-day rollercoaster, but one in particular stuck with me. It was an interesting mash-up thrown together by Colin Burns, the BBC's Executive Creative Director of Future Media: the notion of showroom and shop-keeping becoming an emerging retail concept, for which he coined the phrase 'show-keeping'.
Now, of course, we're all familiar with the notion of 'showroom' in today's retail landscape; it's a place where people shop before buying cheaper online. But the shop-keeper in the traditional sense—an individual who runs a shop founded on passion and know-how, who shares this passion and know-how in ways that relate to us as human beings not a demographic—now this seemed to be a forgotten art. And so the idea of not only sharing your passion through retail, but also celebrating it with pride, became a bit of an a-ha at the Hoo-ha!
Primeval retail
One of the insights that gave rise to the show-keeping thought, was the number of places that seem to be putting more emphasis on creating a truly visceral experience combined with a single-minded focus.
Take Kentish Town's Dirty Burger. Not so much of a dirty secret any more—after all, it's hard to keep really good places underground for long. The entrance certainly sets the scene, and the nerves jangle just a bit as you approach the rusty corrugated steel door that belies the 'filthy' deliciousness inside. The choice is purposely restricted, and includes cheeseburgers wrapped in waxed paper, crinkle cut chips and shakes dished out on battered tin trays from a hole in the wall. It's all about pared down authenticity and doing burgers (and nothing but burgers) really, really well. This is no dodgy fast food shack, though. Its owners, Soho House Group, are no slouches when it comes to pioneering lifestyle trends, so you can expect others to follow.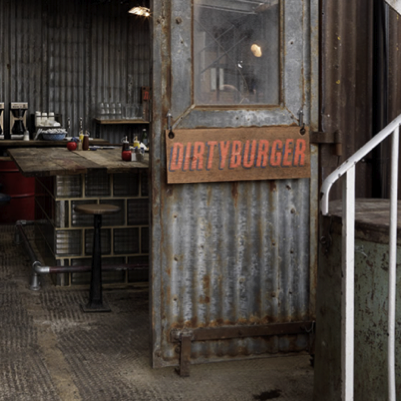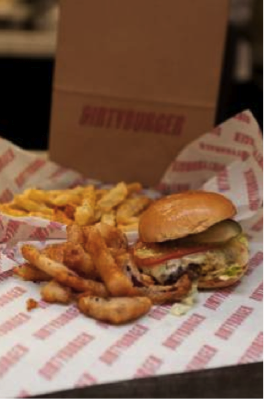 The idea of creating a visceral experience isn't just restricted to food joints. Much like Dirty Burger, Dalston's Late Night Chameleon Café hides its light under a bushel. This subterranean fashion boutique can be found beneath a non-descript office block on the Shacklewell Lane. An entrance passageway, constructed from roughly hewn branches, creates a bird's nest archway that leads into a wooden tunnel flooded with warm orange neon. The aroma of wood and soft light come together to create an otherworldly journey of discovery. As you venture off this central pathway into various rooms, you can explore a range of clothing and accessories, along with a curated collection of books and rare vinyl. At the back, there's a bar and club space serving a selection of mezcals. I now know how Hansel and Gretel must have felt as they approached the candy-coated cottage in the middle of the dark forest. But take note—unlike Hansel and Gretel, you need to plan your visit as LC-NN is appointment only!
Make it theirs
Knowing your audience and creating a sense of personalisation is the key to the idea of show-keeping. Much as in the days of the butcher, the baker and the candlestick maker, it's all about letting customers find ways to curate their own array of products or tailor their own bespoke look and feel.
H&M were quick to grasp the independent fashion blogger vibe, as well as the move to the more visual 'scrapbook' forms of social media like Instagram, Tumblr and Pinterest, where curation rather than creation is king. Their sister brand—the much hyped & Other Stories—launched earlier this year, making the idea of personal styling accessible to everyday folk. At & Other Stories it's not about necessarily having the latest look, but finding your own look. Here the lipstick is as important as the shoes, the bag as the biker jacket, the skincare as the knitwear. As its head, Samuel Fernström puts it, 'The collection is for women who know their own style and are not necessarily fashion followers. It's a more individualistic aesthetic.'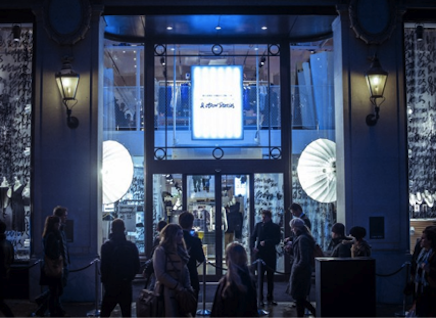 Throughout the store, there are a multitude of lo-fi mini-'storified' vignettes. Much of the merchandise is signposted with real-life styling inspiration, literally pegged to displays in clear plastic folders. The overall feel is of a magazine brought to life in a store—a world of tear sheets and Polaroid-esque photography. Just like the shopkeeper of yore, & Other Stories pays particular attention to how real women shop these days. Austerity means the fast fashion fix may be being replaced with a more sustainable personalised wardrobe, capable of evolving and flexing to each customer's unique demands.
The show-keepers' trinity
A good place to end this story is with the advice of Dave Hieatt, founder of Howies and latterly Hiut Denim. Kicking off the Hoo-ha!, he said: 'Don't say 'yes' unless you find the sweet spot between your interest, your skill and a trend—in this way you'll unite your passion and your know-how with something that inspires your shopper.' And that's what makes a successful show-keeper.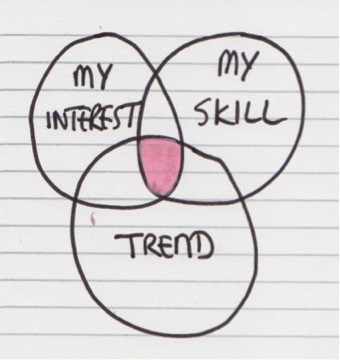 About the Author

Greg Taylor became founding partner in global brand design consultancy Elmwood in 1989. Now Director of Brand Provocation, Greg is the creator and facilitator of Step Change™, Elmwood's strategic tool for moving ideas forward. Clients include ASDA, Wal-Mart, Arla Foods, BBC, COI (Defra and DfT), Cable&Wireless, Comic Relief, Debbie & Andrew's, Durex, Glasgow 2014 Commonwealth Games, McCain, and the Met Office.