Unlike many car manufacturers that hope to engage with the multimillion Facebook or Twitter audiences, Honda Australia has chosen a less popular, professional social-media networking site LinkedIn to promote its new Accord. The brand has collaborated with Leo Burnett Melbourne and ZenithOptimedia to launch a promotional website Honda Accord A-Team, where users (residents of Australia) can sign in with their LinkedIn accounts to enter a contest and win business-technology products worth AUD$3,000.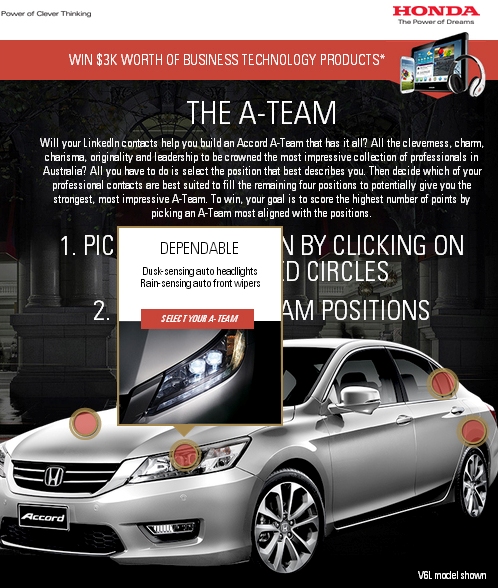 Participants are invited to select one position out five suggested options that best describes them, and then invite their LinkedIn connections best suited to fill in four remaining «vacancies» in an A-player Honda team. The goal is build the strongest team and score the highest number of points by picking an A-Team most aligned with the positions.
The five types of work roles are: a High achiever, a Diplomat, a Ms. or Mr. Dependable, an Original Thinker and a Social Butterfly. All these positions are supposed to represent key parts and features of Honda Accord—high achiever stands for the engine, original thinker represents the Advanced Driver Assist System, and so on.
Each A-Team will be awarded points based on the attributes of each member's LinkedIn profile. The formula of calculation of the score can be found here. The better professional attributes, the more chances to win the prize. The activation is rolling out from June 26 through July 30, 2013.
"We chose the LinkedIn platform and use of their Application Programming Interface (API) to target an audience of mid-tier affluent professionals and engage them in a more personalised and creative way," Kevin Lillie, Honda Australia senior manager, commented on the project.