Levi's starts a new chapter in the history of women's jeans. First introduced in 1934, the Lady Levi's jeans were revolutionized over the past decades and reached its perfection in 2010 with the introduction of the Curve ID fit system. Now, Levi's is rolling out its latest innovation, Levi's Revel, which will make the perfect yet better. The brand's latest line is built on exclusive Liquid Shaping Technology, which is fused into the denim and controls its stretch.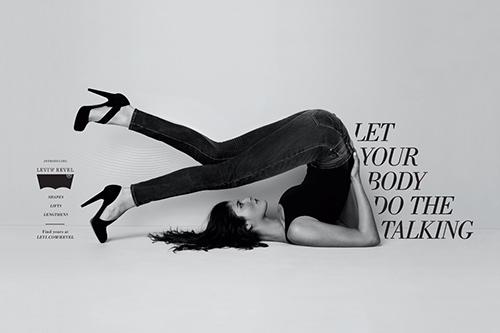 Thanks to the new technology with "superior memory retention," the female body gets the right treatment to look the best way it can. With the four-way stretch effect, the jean "hugs" the figure and builds a shaped silhouette by defining the female body parts in the jeans and accentuating the best of these shapes. Without any special inserts, the "liquid" Levi's Revel jean, soft and comfortable, works as a single piece from the bottom to the waist. The elongated seaming and strategically placed contour finishings and pockets also help make the most of the jeans'  shape-enhancing ability.
"It [Levi's Revel] controls the stretch in those areas, much as compressionwear does. But rather than using visible reinforced panels, we use the application of the liquid-stretch technology," commented Jill Guenza, Levi's vice president of women's design to WWD. "The result is a jean that carves out the inner thigh, slims and smooths the outer thigh, lifts the seat and flattens the tummy."
The brand has successfully tested the prototype of the new jeans among women across the globe.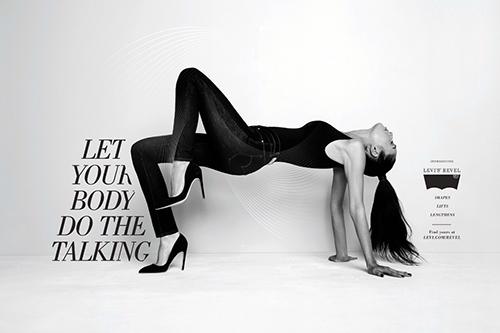 To introduce the new line, Levi's is rolling out a new campaign, "Let your body do the talking," in which a woman, wearing the new jeans, is performing various acrobatic poses. The marketing push includes prints in a number of women's lifestyle and fashion magazines such as Cosmopolitan and Glamour to name a few, and a web video to be launched on LookBook, PopSugar and Daily Candy. The campaign has been developed by a pool of agencies including Wieden + Kennedy Shanghai, Knock, Inc., in Minneapolis, Levi's internal teams and OMD, the brand's global media agency.
The new jeans will be available in Slight, Demi and Bold Curve, a range of washes and colours, skinny and straight leg openings. Levi's Revel will arrive at select Levi's retail stores worldwide and online on August 4. The price is expected to range between $98 and $128.
The Levi's Revel line drives the female's body to perfection with the "liquid" tech effect, and it's focused on the shaping purpose only. Wrangler, another jeans giant, has taken the jeanswear industry a step further earlier this year by launching the moisturizing denim pants.