Mercedes-Benz USA is holding a social media competition, "Take the Wheel," to promote the new Mercedes CLA for the younger audience. The brand has commissioned five best Instagram photographers for a 5-day drive across the United States behind the CLA's wheel. The author of the the most «liked» photos will win a 3-year lease on the new Mercedes-Benz car. Moreover, any 21+ U.S. resident, an Instagram user with a driver's license and passion for photography can have a chance to be rewarded with another CLA car automatically even without competing—the sixth winner will be selected by the five contestants judging by how his or her Instagram public feed resonates with the spirit of the CLA car.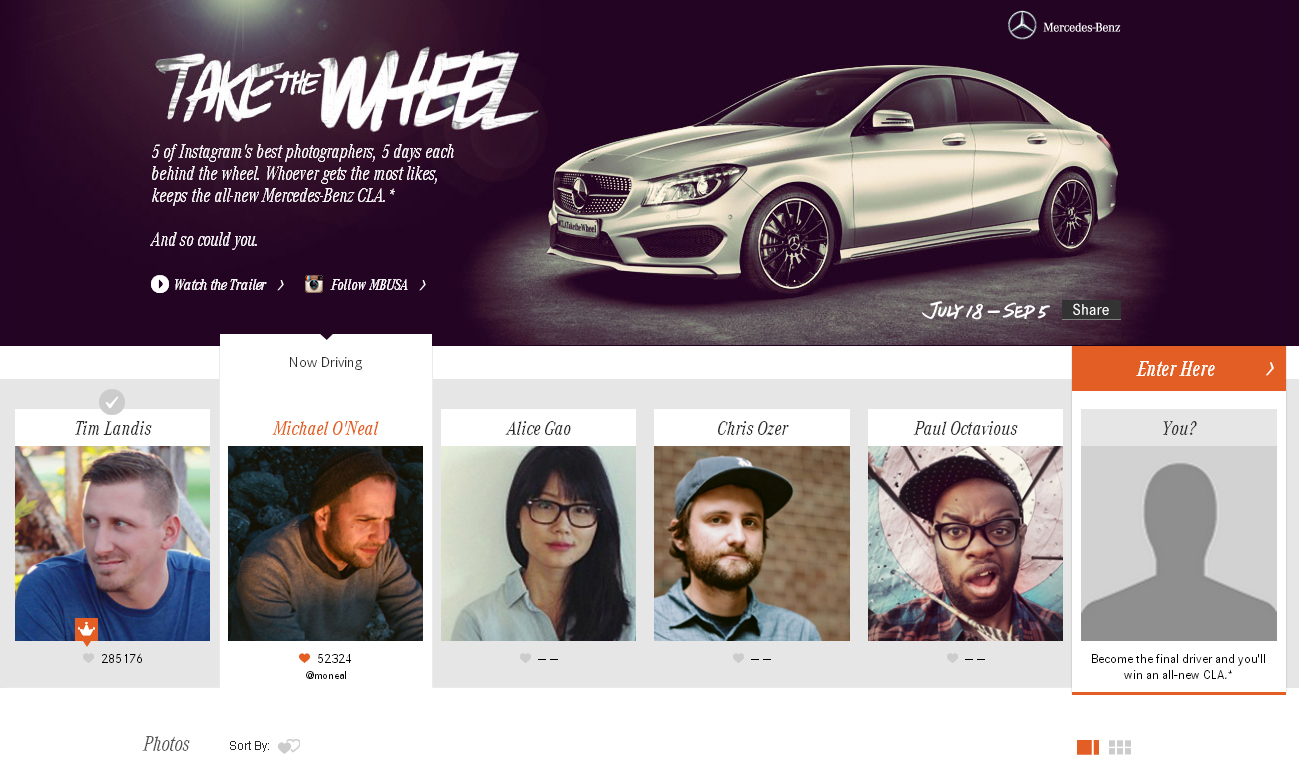 Tim Landis (@curious2119), Michael O'Neal (@moneal), Alice Gao (@alice_gao), Chris Ozer (@chrisozer), and Paul Octavious (@pauloctavious) have been selected to partake. As part of the project, running from July 18 through September 5, the five contestants capture the spirit of the country in their own way. The Instagram community can follow the contestants on @mbusa or on their accounts. Currently, Michael O'Neal is driving—the first contestant, Tim, has generated 285,176 likes from the users, and Michael has collected 51,082 at the moment of this publication.
The dedicated page features the Google Map-marked routes the contestants drive as well as brief profiles of the five heroes. Each of them has a fairly interesting photographic background. For instance, the current contestant, Michael O'Neal, became a Creative Director at Apple in 2003. "His background in art direction informs the style of his Instagram photography, which is notable for both striking portraiture and use of natural light. Michael lives in San Francisco and spends his free time hiking, playing guitar, and singing," the site informs.
The "Take the Wheel" competition also has a fan-awarding element. Mercedes invites Instargam users who share the passion for photography and the CLA attitude—bold aesthetics, adventurous spirit, and the ability to see things differently—to enroll for a chance to win the vehicle without competing. The applications are accepted through August 14. The five honoured photographers, listed above, will select the winner, who will embark on a three-day road trip starting on September 5 and document the adventures on the @MBUSA Instagram feed.