TV is undergoing a dramatic change with Internet and social media transforming how people discover and watch shows, movies and programs. In the era of ultimate interaction, TV experience is getting enhanced by social media and gradually turns into social TV. Now the question is not what's taking the lead in delivering video content, TV or Internet in the form of social networks, but how these two media get intertwined for delivering more relevant and engaging experience to the audience. Below, you will discover what makes TV really social, how video content providers drive more engagement using social networks, how the audience searches for additional info about shows, and more.
What is social TV
Online space has become the major source of information about all kinds of content, including video. Viewers interact with the shows far before they actually air, thus establishing connection with the content before actually watching it (sometimes as early as on the production stage). For instance, in its study "How Digital Drives Viewers to New TV Shows" (June 2013), Google discovers that net 60% of viewers engage with content online prior to tune-in by watching clips about the show, visiting the show or the network website, and more. Today, TV goes hand in hand with online and social media as its powerful players. We're witnessing the birth of Social TV.
Wikipedia provides the following definition of this new and morphing phenomenon: "Social television is a general term for technology that supports communication and social interaction in either the context of watching television, or related to TV content. It also includes the study of television-related social behavior, devices and networks."
Probably, the major element of social TV is a so-called second screen, or "companion device"—activity that integrates smartphones, tablets and laptops into the TV viewing experience to complement it. This allows the audience to discover more about the content they are watching (cast, ratings, etc.), post immediate feedback on the show via their social media accounts and more. In late 2012, Nielsen reported that over 39% of people in the USA used their smartphone ("second screen") at least once a day while watching TV. The whopping 84% do this at least once a month, while 62% confessed they do this several times during a week.
Sometimes, these two terms—second screen activity and social TV—get a bit confused, but in fact these are quite different. Social TV is a technology expected to inspire a social media outreach and interaction that usually requires second screen activity. Second screen lets the viewer interact with the content they are watching, playing, listening to, etc.—if they want. While Social TV phenomenon includes second screen apps, using second screen features not necessarily means being socially active.
In what forms does Social TV come?
Currently, there's a variety of second screen apps and social TV platforms—see AdAge's US 2013 Social TV Ecosystem for a deeper insight into this morphing market. Some of the apps—for instance, Viggle and GetGlue to name a few—also include a gamification element to make the interaction more fun. While the selection of social TV apps is quite big, popular social networks are the major players on this market, since they are social TV apps by their nature (though they may be not claiming it).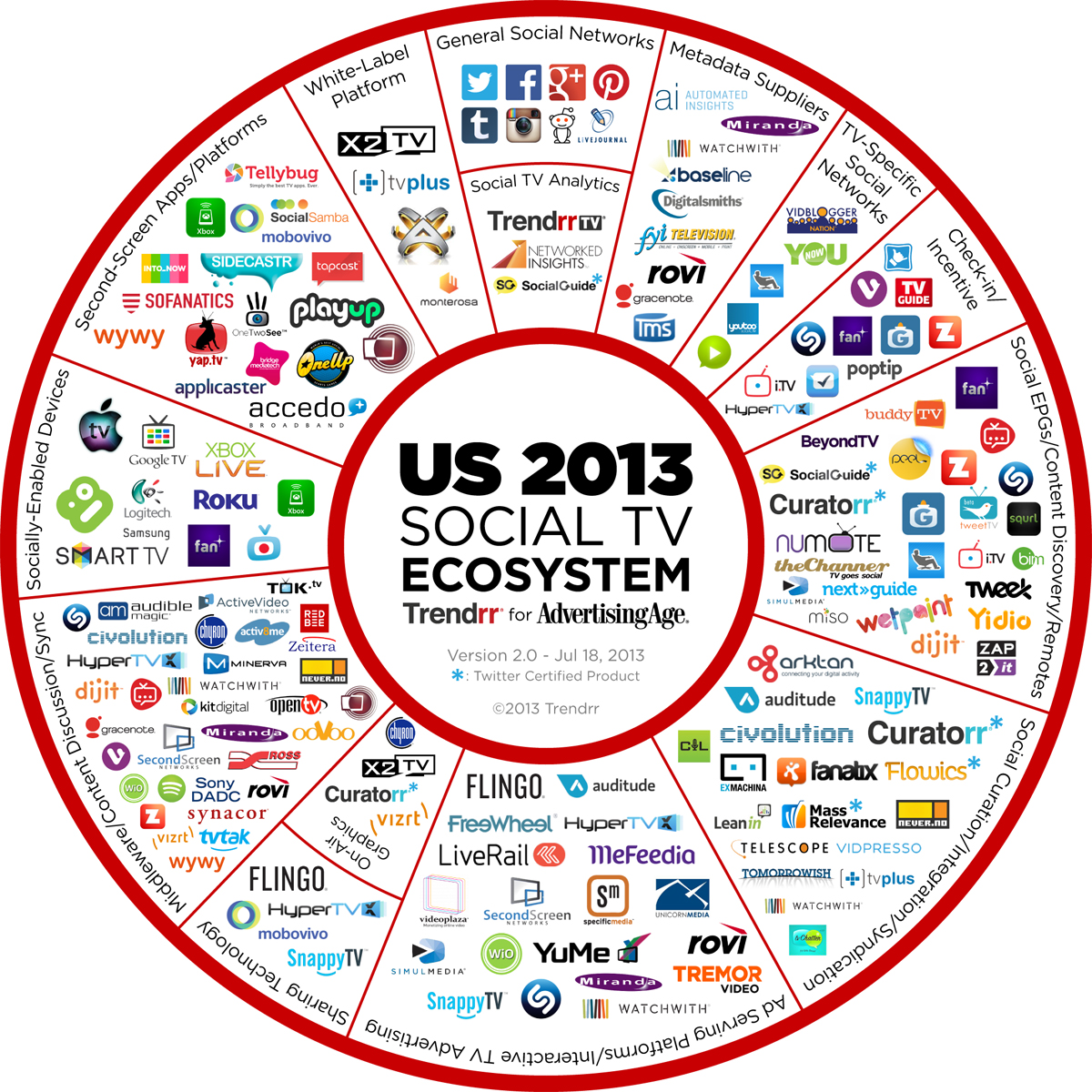 Until now, Twitter has been considered a leader here, positioned as a perfect platform to capture and reflect the audience reactions in real time—the power of micro-blogging service has been leveraged by Nielsen for TV rating tool based on Twitter data. While Twitter's potential is already widely harnessed, it's time for media and marketers take a closer look at the value of Facebook data in second screen and Social TV measurement to capitalize on the deep consumer engagement facilitated by Facebook.
This week, Trendrr, a NY-based digital and social media business intelligence platform, revealed a study on second screen Facebook activity analyzed during May 13-19. It found that "the volume of Facebook user engagement relating to television programming was 5 times as large as all other social networks combined. Activity related to broadcast television was 7 times as large, while activity linked to cable-television programming was 4.5 times as large as all other social networks combined. Second-screen activity levels on Facebook were particularly high among viewers of dramas and comedies."
Three ways to build Social TV
TV networks and providers are driving the audience engagement with social media channels using the following approaches:
1. Using social media to get the audience watch the content and discover more about it.
Virtually any social TV app lets the viewer unlock extra information about the content. That's the core idea behind second screen apps that let the user find descriptions, ratings, reviews, scores, brackets, etc. to build a more detailed picture. They either require the audience to enter a related info (the name of the show), or help them identify the content with technology and then provide additional details about it (like Shazam). Another level here is to turn traditional social media channels into a remote control to distantly manage the viewing experience. For instance, with its recently launched service, #SKYREC, SKY enables users to start the recording of shows and programs on the decoder with a re-tweet.
2. Urging the audience to seamlessly interact with each other and amplify their real-life experience.
This activity ranges from TV check-ins (Miso, Viggle, GetGlue and Tunerfish to name a few) and showing others what exactly you are into at the moment to discussing the episode with friends while watching it. The apps that allow to clip, edit and share live content also enhance their viewer experience and make it as social as never before. Encouraging the audience to use hashtags of the show or program also helps make the content more social and inspire conversation that goes beyond the time while the content is on-air.
Another way to lead the audience deeper into the content is to host various fan competitions, launch games and activities, closely related to the show's theme, and provide viewers with backstage insights. For instance, "Game of Thrones" got a web-based app, »Join the Realm,» where the series' superfans could create their own house sigils, or HBO's "Girls" encouraged fans to share photos of themselves dressed as the characters of the series ahead of the season two premiere.
3. Putting the audience at heart of the production process.
Urging fans to vote for the contestants is the simplest form of such collaboration now. The next step is to empower fans to be co-producers of the content by funding it. Swedish platform Reupp encourages fans to donate a few dollars to re-start production of their favourite show or series if they had been axed. This week, filmmaker Spike Lee encouraged the Kickstarter contributors to fund his new flick with a total of $1,250,000 by August 21. The "social birth" of these projects doesn't ensure their "social life," but it's a good start. Allowing the audience to influence the course of the show is the future of Social TV—Xbox Live has already made a step towards implementing this strategy with the interactive program, "The Music Room."
Social TV—isn't it oversaturated with info?
With a plethora of social screen apps and Social TV phenomenon in general, people get overwhelmed with information every single minute of the program or episode. Now it's not enough to watch content as is—a viewer is actually made to squeeze the maximum of information out of shows, want it or not. This trend, rooting in our desire to grasp as much as possible, contributes to the attention deficit, making us absorb new portions of information instead of concentrating on what already is on the plate.
Today, there's an obvious shift towards simplified content that a) doesn't contain extra details (one is expected to search with apps for these), b) keeps us focused only for a short period of time, and c) allows a quick tune-in (multiple seasons and spin-offs). As a response to the second screen hype, in about three or four years (just when the audience will be overfed with extras) we may be witnessing the start of an era of "slow-watching." But this will be possible only if we still have longer films and shows that allow concentration and independent view.