Coca-Cola Enterprises in collaboration with Sainsbury's are launching a new recycling initiative with a creative element «Don't Waste. Create» across the U.K. Starting on August 14, the online campaign will run for six weeks on Sainsburys.co.uk as well as on the dedicated website, where families will be able to submit their recycling pledges online, and also learn more about how to reuse and recycle plastic bottles in a fun and creative way. The effort will also go offline with a special in-store activation.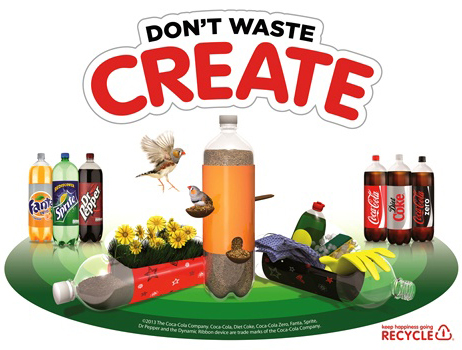 On the site, parents will find ideas on how to turn the used packaging into simple household objects such as bird feeders or self-watering pots for plants. In return, they will get a 50p-off voucher on their next purchase of a 2-litre pack of the Coca-Cola's most popular drinks and enter a sweepstakes for a chance to win a family "glamping" holiday in France.
"By asking them to reuse and then recycle plastic bottles, Don't Waste. Create encourages families to think more sustainably while having fun, giving them a tangible way to help reduce their household waste," commented Nick Brown, associate director for recycling at Coca-Cola Enterprises.
Coca-Cola Enterprises, the biggest Western European bottler of Coca-Cola, has a long track of promoting sustainable lifestyle and recycling across the U.K. In May 2012, the company partnered with ECO Plastics to launch the recycled-PET (rPET) joint venture Continuum Recycling, which earlier this year reported that the facility had processed 500 million plastic bottles. Continuum Recycling is said to be the world's largest plastic recycling plant, that doubled the volume of rPET as compared to the amount processed in the U.K. before the launch of the venture.
Another ongoing CCE's sustainability initiative is the research Recycle for the Future, conducted in collaboration with the University of Exeter, that aims to observe at-home recycling behaviors of 20 households in Great Britain and France. The aim of the study is to find out why the recycling rates are relatively low, while over 63% of consumers across both countries view recycling as "a moral and environmental duty."